Description
SeaTouch 4 Max underwater touchscreen housing is a revolutionary design for smartphone to use underwater up to a depth of 60 meters. For its limitless operation to the touchscreen of the smartphone, you can simply use all the function and Apps of your smartphone. it is World's 1st  underwater full touch screen diving housing for smartphone.

ADD PROTECTIVE CARRYING CASE
It is the future of underwater image, communication and entertainment.

World's 1st All-in-One Diving Assistant. Patented Underwater TouchScreen as on land for underwater iPhone diving case.This iPhone diving housing is used for protecting your iPhone and taking great videos, pictures when surfing, diving, snorkeling, skiing, or other activities. You can use the Compass, iPhone Built-in compass is easy to access and work well underwater. Moreover,you can Instant Upload & Share in any time

Compatible All APP. No more limit accessing to any App for iPhone housing.No button limit to your creativity.Enjoy more fun.Record your best moment.With interesting photos,video and even music

Extremely Safe for iPhone underwater housing .Without taking out phone to avoid bring in moisture. Instant upload and share.

This case is used for protecting your iphone and taking great pictures when surfing, diving, snorkeling, skiing, kayaking or other outdoor activities. You can use back and front camera, taking pictures or videos.

Remind: remove the screen protector. if not remove,maybe difficult to put the phone into the housing, and take off it, moreover, touchscreen maybe out of order underwater.

Application Phone model

iPhone 14/14 PRO/14 PLUS/14 PRO MAX 13/13 Pro/13 Pro Max/13 Mini/12/12 Pro/12 Pro Max/12 Mini/11/11 Pro/11 Pro Max/X/Xr/Xs/Xs Max/SE/8/8+/7/7+/6/6 +/6s/6s+

Samsung

 

Galaxy S21/S21+/S21 Ultra/S20/S20 FE/S20+/S20 Ultra/S10/S10E/S10+/S9/S9+/S8/S8+/S7/S6/ Note 20/20 Ultra/10/10 Lite/10+/9/8/A90/A80/A71/A70/A60/A52/A51/A50/A50S/A40/A40S/A21S/A20E/A9S/A8S/A8+/A6S/A5/A750

 Google

 

Pixel 6/6 Pro/5/5A/4/4A/4XL/3/3 XL/3A XL/2

Oneplus

 

10/10 Pro/9/9R/9/RT/9 Pro/8/8T/8 Pro/7/7 Pro/7T/7T Pro/6/6T/5/5T/Nord

Huawei

 

Enjoy 20/20SE/20 +/10/10S/ Y9/Y9 Prime/P50/P50 Pro/P40/P40 Pro +/P30/P30 Pro/P30 Lite/P20/P20 Pro/P10/ P10 +/MATE 40/40 Pro/40 Pro +/40 RS/40E/30/30 Pro/30 RS/20/20 Pro/20 RS/10/ 10 Pro/Nova 9/9 Pro/8/8i/8SE/8 Pro//Pro/7SE/6/6SE/5/5Z/5T/5 Pro/4/4 Pro/3/3i/3 Pro

HONOR

 

60/60 Pro/50/50SE/50 Pro/30/30 Pro/30 Pro+/20/20SE/20 Pro/X30/X30i/X30 Max/X20/X20/X20 SE/X10/X10 Max/V40/V30/V30 Pro/V20/V10//9X Pro/8X/8X Max/7X/ Magic 3/3 Pro/2/2 Pro

OPPO

 

Find X3/X3 Pro/X2/X2 Pro/X/ K9/K9X/K9S/K9 Pro/K7/K7X/K5/K3/Reno 7/7SE/7 Pro/6/6 Pro/6 Pro+/5/5K/5 Pro/5 Pro+/4/4SE/4 Pro/3/ 3 Pro/A95/A93/A93S/A92S/A72/A56/A55/A53/A32/A11/A9/A8/A5 /R17/R17 Pro/R15/R15X

VIVO X70/X70 Pro/X70 Pro+/X60/X60 Pro/X60 Pro+/X50/X50 Pro/X50 Pro+/X30/X30 Pro/X27/X27S/X27 Pro/X23/X23/X21/X20/T1/T1X/Nex/Nex 3/Nex 3S/S12/S12 Pro/S10/S10E/S9/S9E/S7/S7E/S6/S5S1/S1 Pro/ Y76S/Y74T/Y55S/Y53S/Y32

XIAOMI

 

12/12 Pro/12X/11/11 Pro/11 Ultra/10/10S/10 Pro/9/9SE/9 Pro/8/8SE/CC9/CC9 Pro/Redmi K40/K40 Pro/K40 Pro+/K30/K30i/K30S/K30 Pro10X/K20/ K20 Pro/Note 11/11 Pro/11 Pro+/10/10 Pro/9/9 Pro/8/8 Pro/7/7 Pro/6/6 Pro/5/5 Pro/Mix 4/3/2/2S

REDMI 10X/10X PRO/K30/K30 PRO/NOTE 9/9 PRO

REALME GT2/2 Pro/Neo 2/Neo 2T/Neo 1/GT1/X7/X7 Pro/X50/X50M/X50 Pro/Q3/Q3S/A3T/Q3I/Q3 Pro/A2/Q2 Pro/V15/V13/V11S/V5/V3

SONY Xperia Pro-I/5/5II/5III/10II/10III/1/1III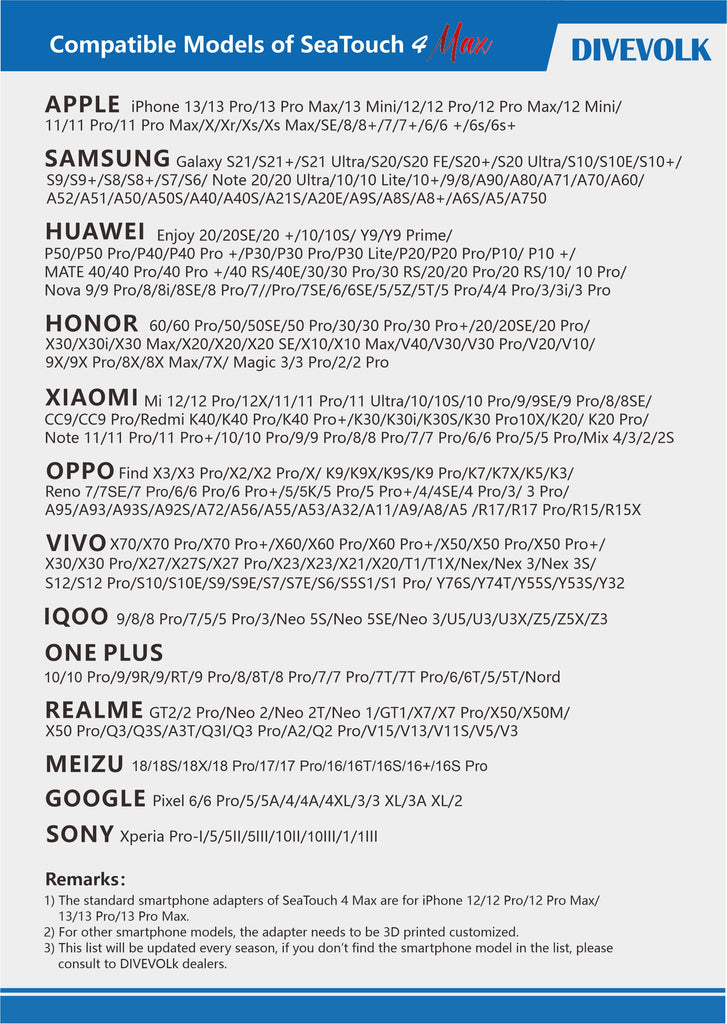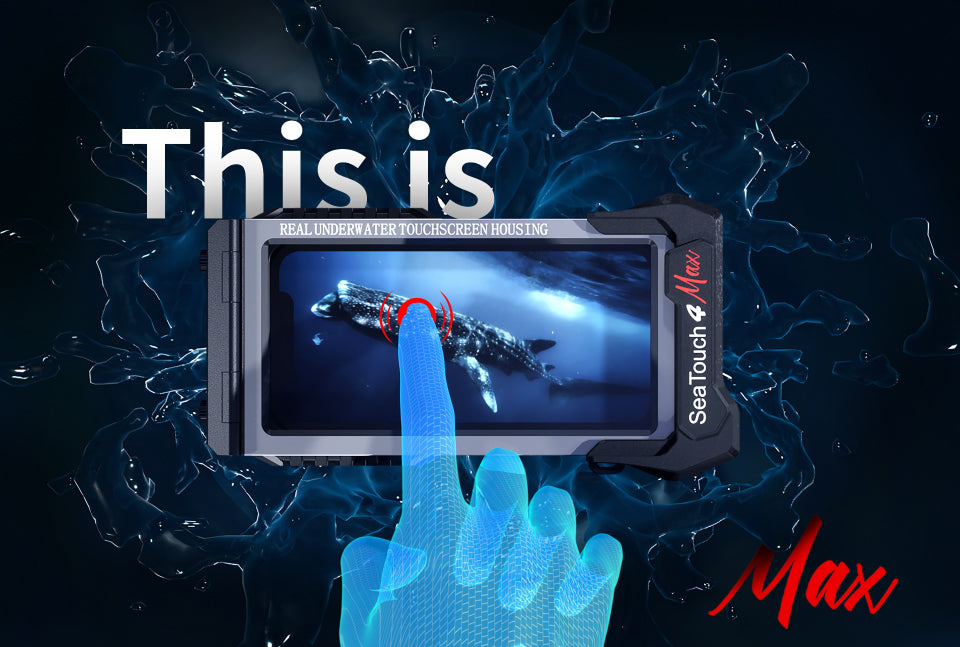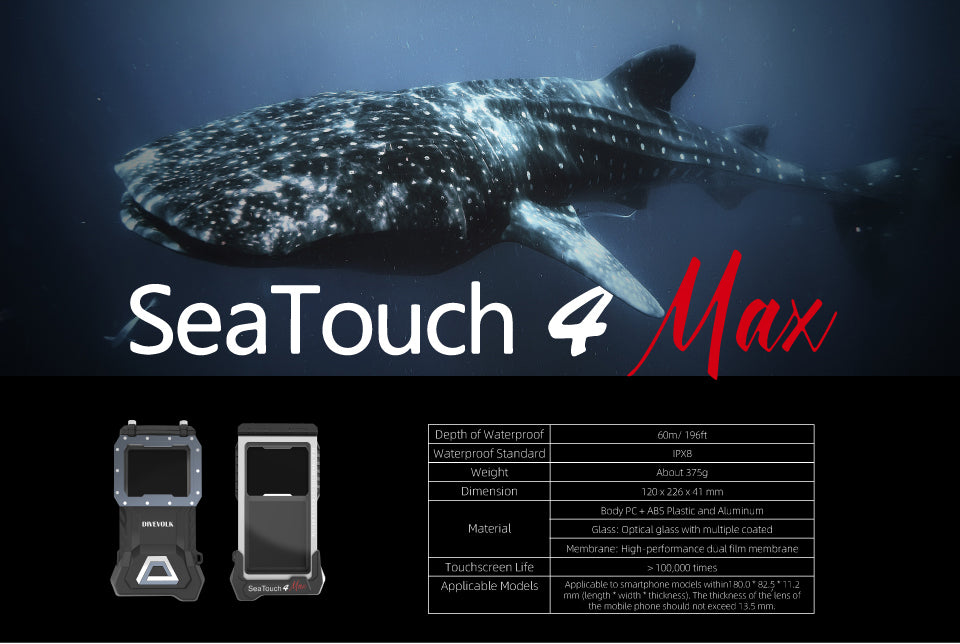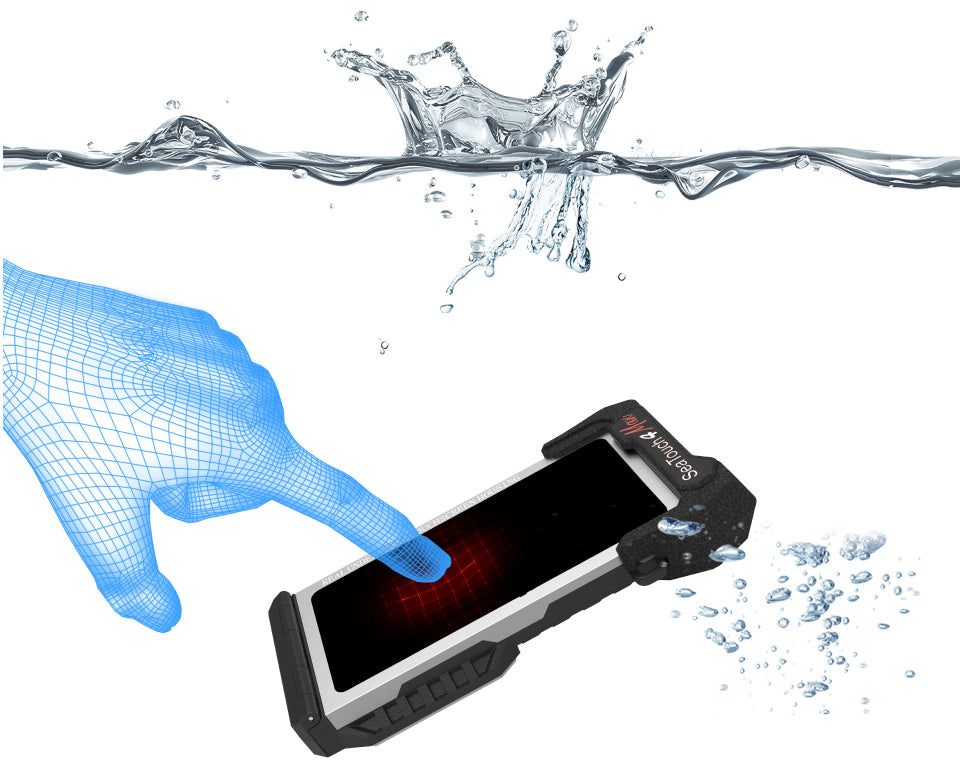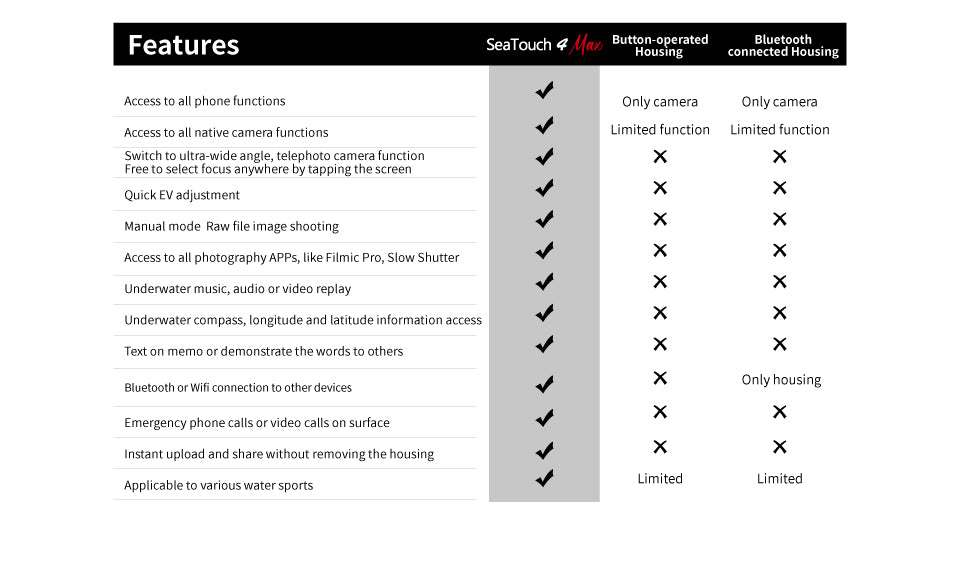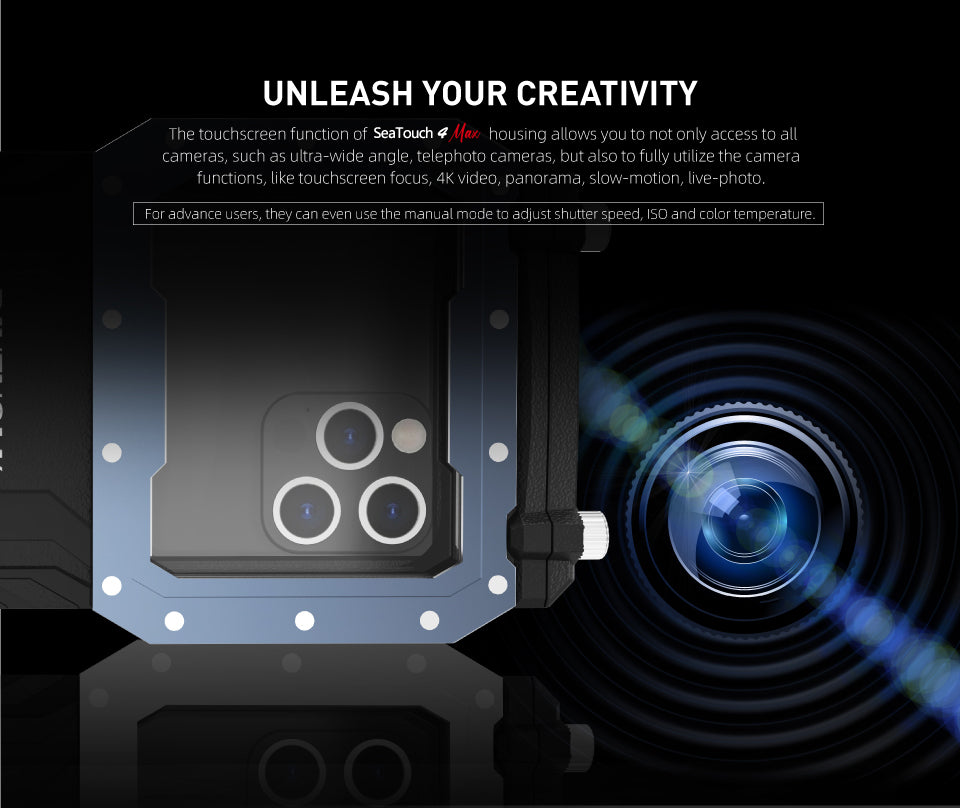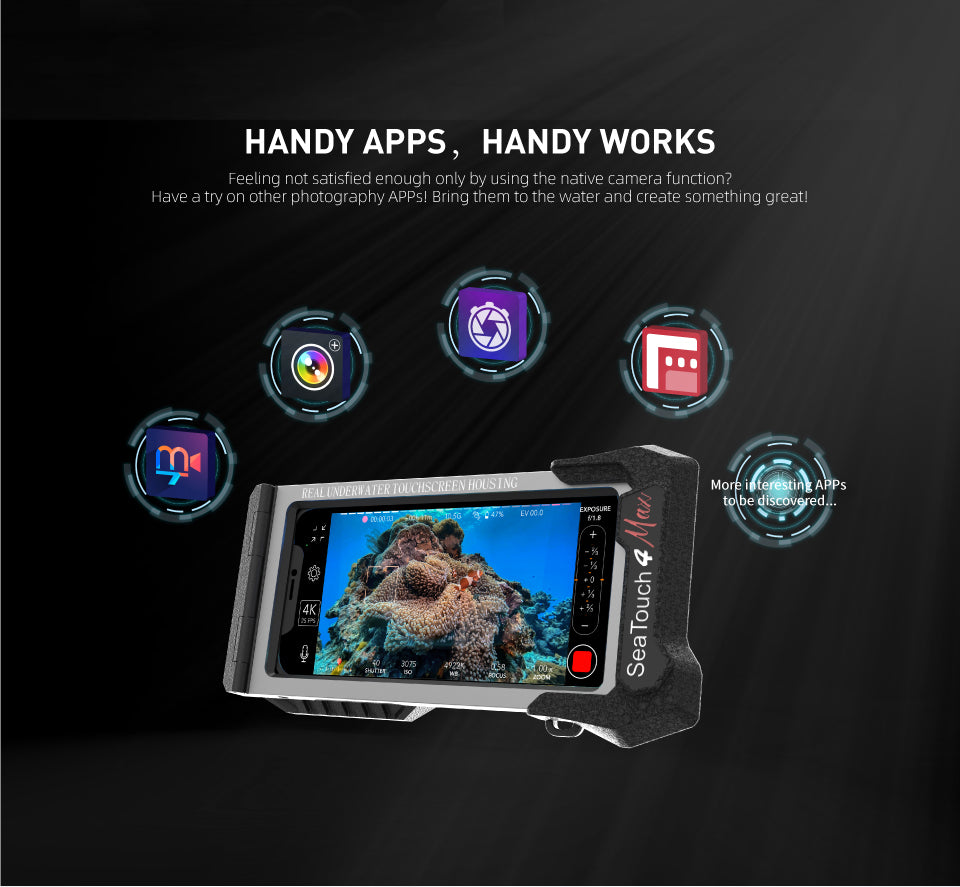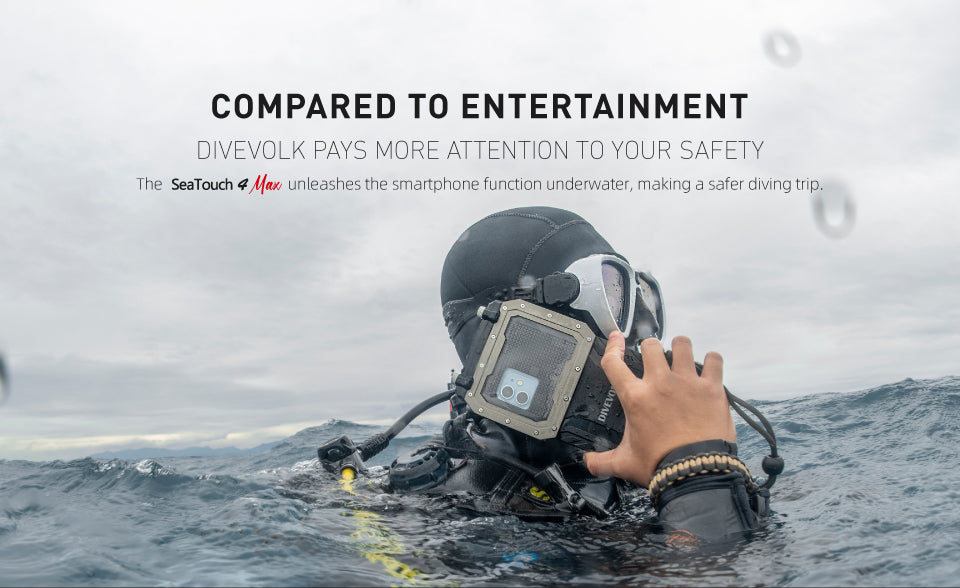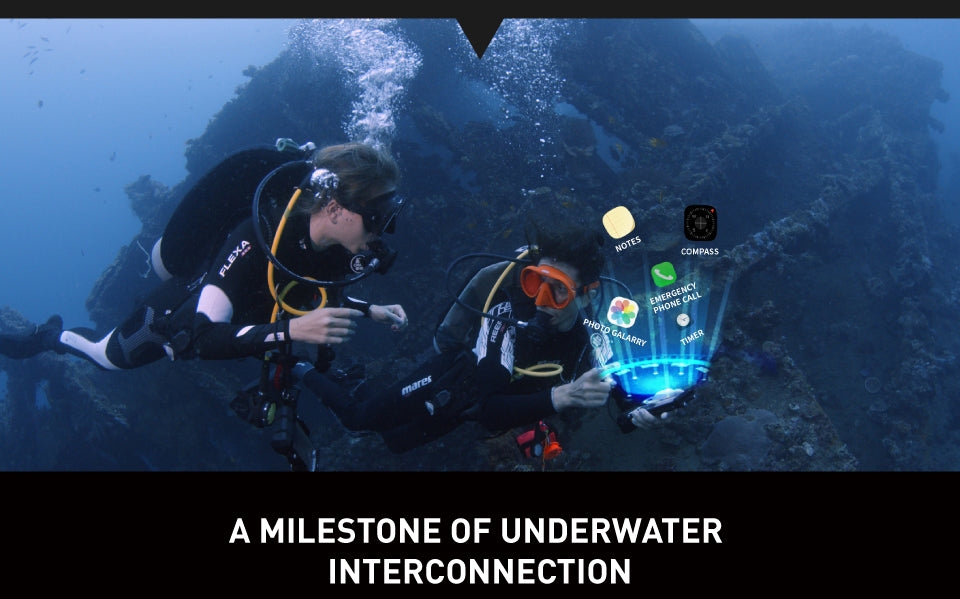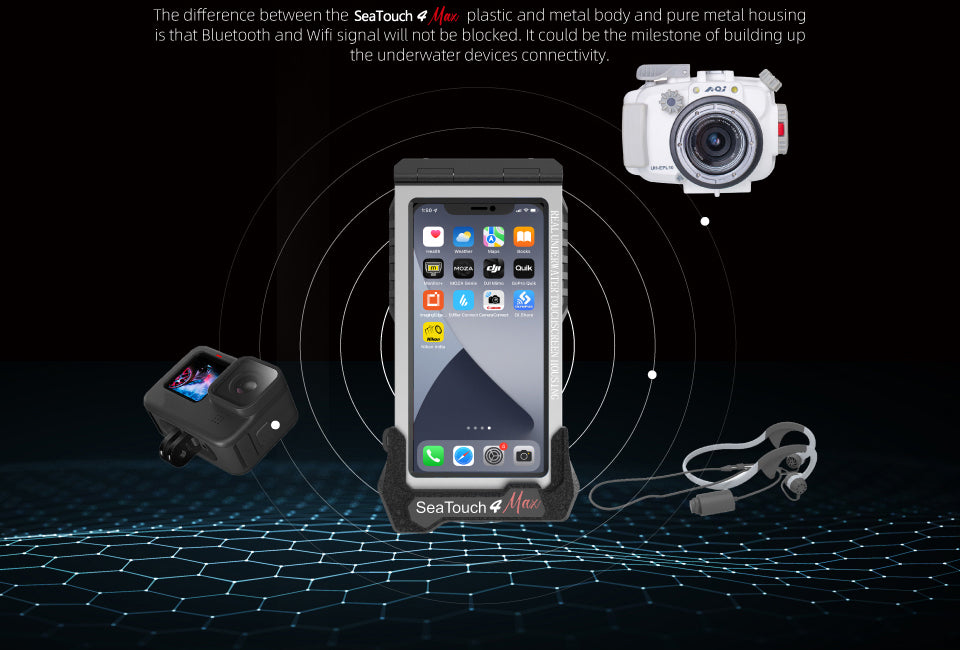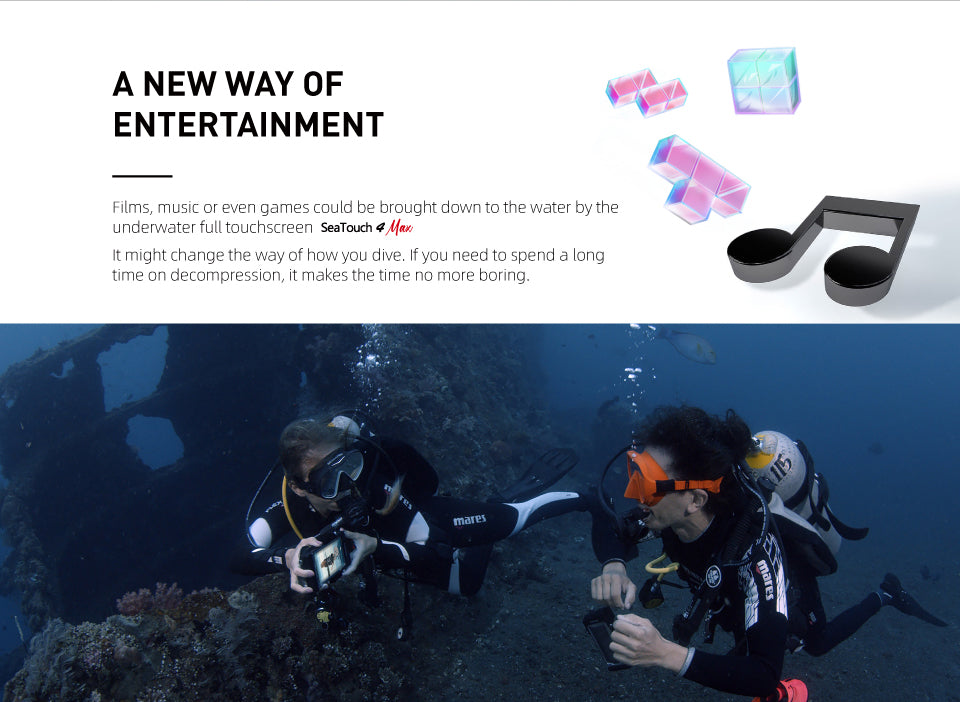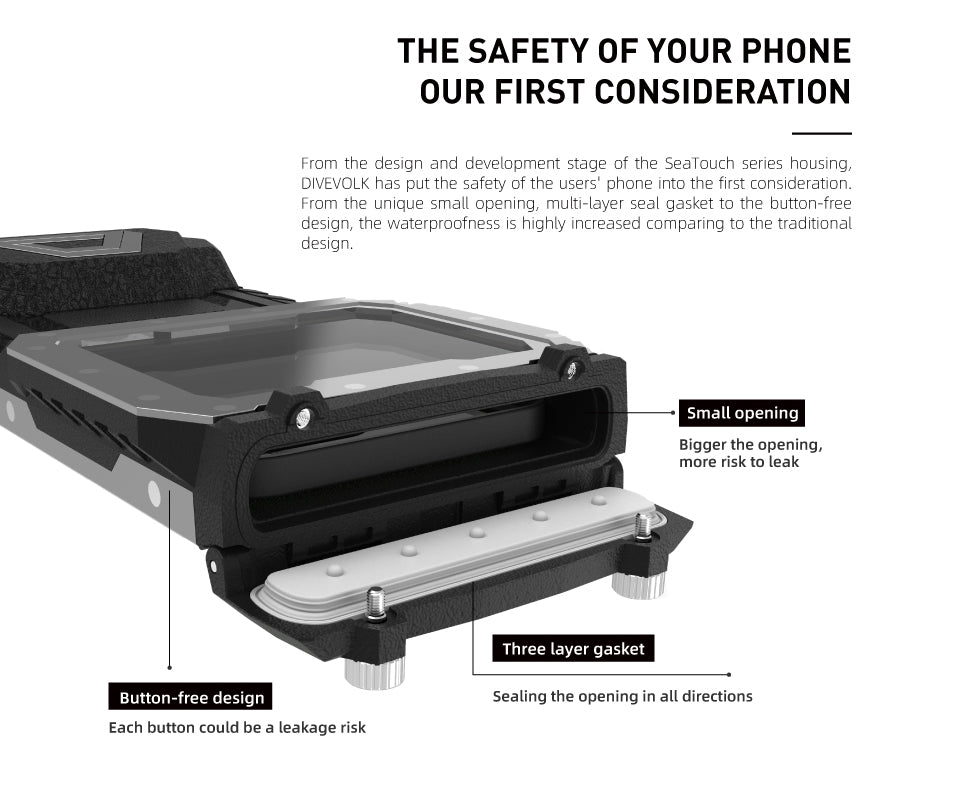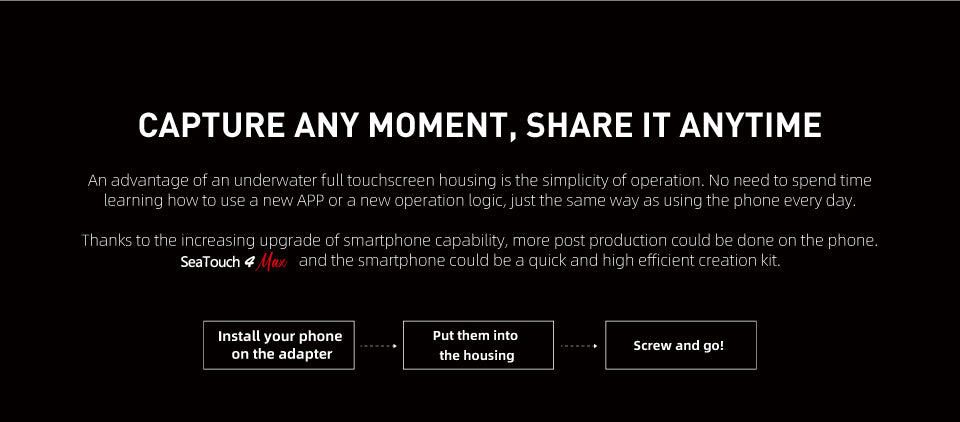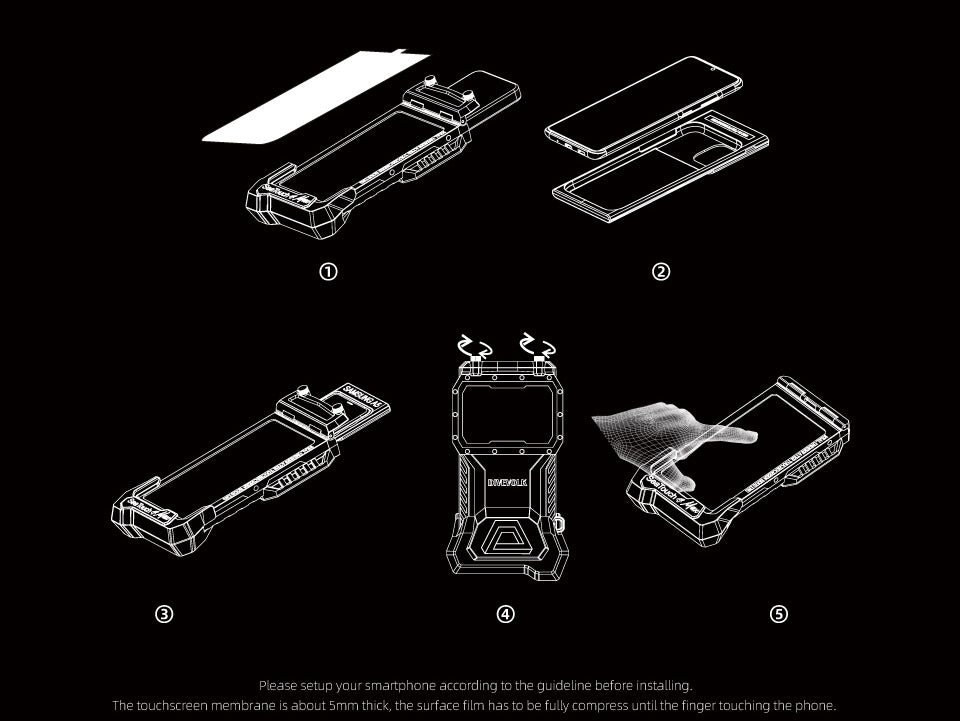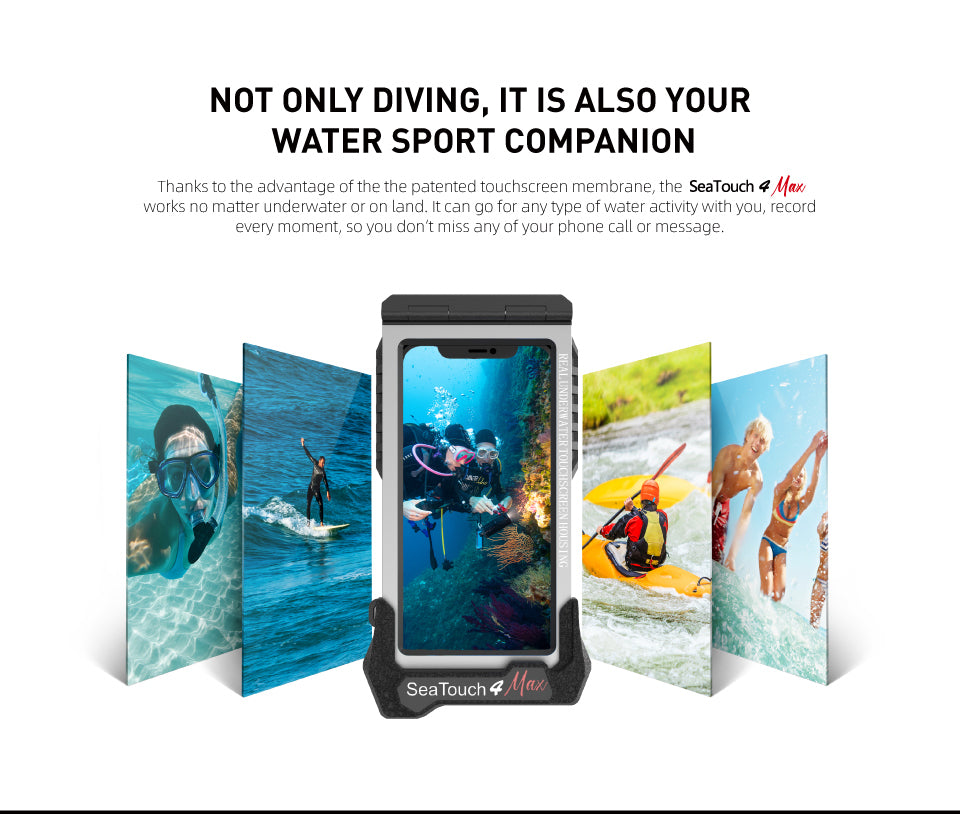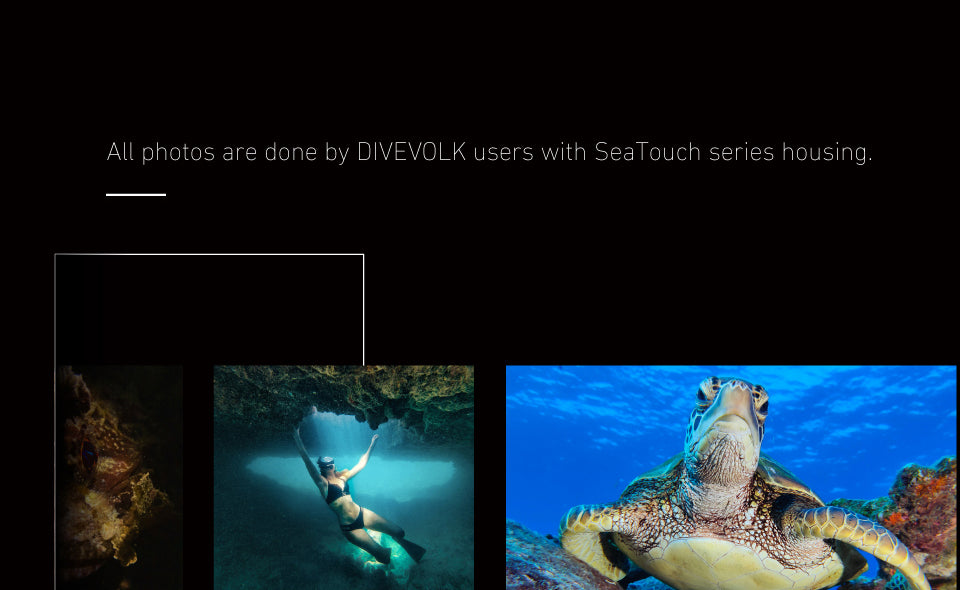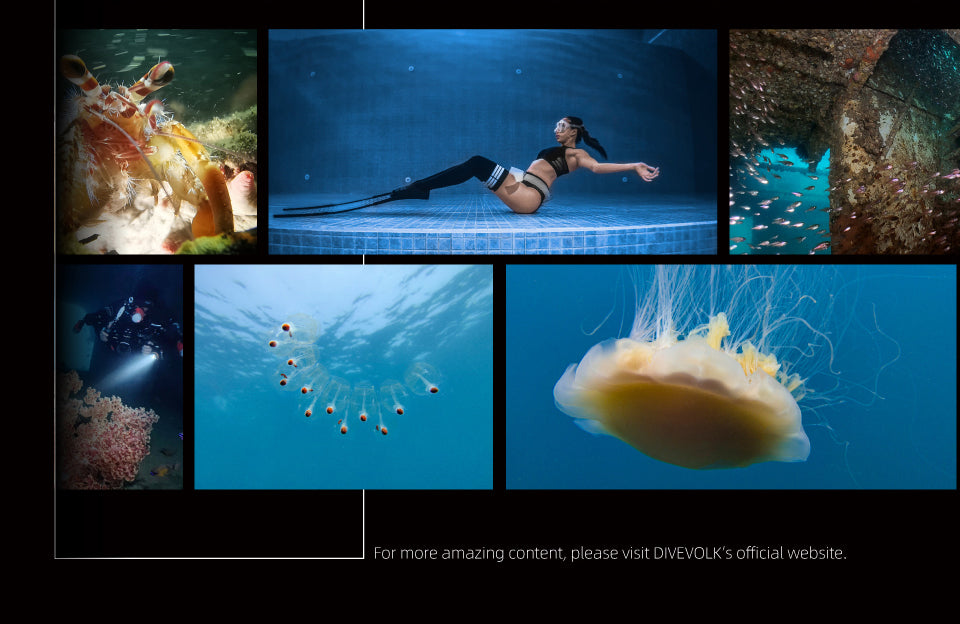 Beginning with the ever popular iPhone version, Divevolk has innovated a version of underwater housing to have true touchscreen ability on the entire real estate of your phone screen! Not buttons that work on Bluetoothconnection or restrictive presses on the volume buttons. The gel-filled layeris the piece of spongy-feeling layer between your phone's screen and you. Anyscreen protector would have to be removed before inserting into the housing onits specially moulded tray designed for specific models of iPhone 12 Pro max/13 Pro/13 Pro max . This is to facilitate the sensor to sense your finger contact more effectively on the phone as the ambient pressure is already exerting a force on the entire gel layer, the phone needs to sense your 'finger' to register it as a contact.
Function wise, this is the only housingwhere you can use the entire touchscreen underwater. No buttons! Waterproofto 60 meters/196 feet, you can use all of your apps, camera for photos andchange any settings just as you would on land. If there is an emergency, youcan still use text and phone features at the surface. If your smartphone has awireless charge option, that function will still be maintained whilst in the housing, so no need to take it out of the case to charge.
 There are a few apps and features available,too. For example, you can broadcast audio underwater. Imagine being aninstructor and needing to ask students to look back at you. Create a pre-setrecording then play it for them to hear underwater. And imagine being able tolisten to music underwater.
 If you have not started underwaterphotography yet, how many times have you wished you could take your trustysmartphone underwater with you? A gadget that you are familiar with, canoperate the camera app with ease and don't have to figure out technical jargon???Have you been intimidated by complex camera gear and equally complicated setup?It kills the joy of gearing up even before you get into the water. Having Divevolk's SeaTouch 4 Max eliminates the complexity of a time-consuming setup,freeing you from the stress and annoyance of misplacing essential accessoriesthat comes with a huge camera setup. It has only one door that has a doubleO'ring and it's secured with nuts and bolts. Forget all the chunky gear thatphotographers need to lug along with strobes, lights and accessories.
 If you are professional underwaterphotograher, you can order  the wideangle lens and red filter , the result is better than shooting ordinarilywithout. The app has 4 shooting functions, Time-lapse, slo-mo, photo &video mode. When you want your video to have adjusted WB, you have to use the Photo mode first to pre-select the preset and select Video afterwards to continue with the preset white balance.
 If you have been taking pictures underwaterwith your humongous gear, let me give you a reason to have this on your nextouting, especially if you are going on a business trip with a detour to aneighbouring dive site and can't carry that behemoth with you. This gadget doesn't require tray and arms because the centre attachment grip has groovesfor screwing on two bendable mini lights plus snoot for your macro-muckingabout. Having a housing ready means you never have to miss that opportunity nomatter where your boss sends you!