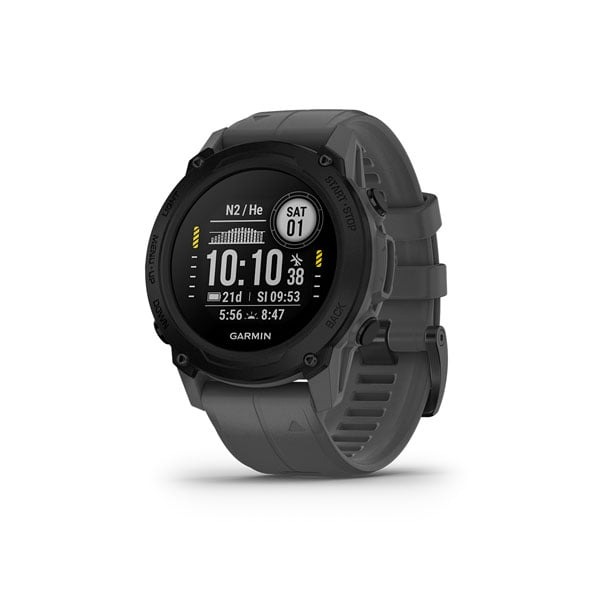 Garmin Descent G1 Series
https://www.divesea.shop/shop/garmin-descent-g1-series-28992
https://www.divesea.shop/web/image/product.template/28992/image_1920?unique=e7c4888
YOU'RE A DIVER UNDERNEATH
Land or sea, this compact dive computer is built for both of your worlds.
Please check with us on availability if this item is urgently required.​

Support for multiple dive modes — ranging from technical to free dives.
GPS enabled to help mark surface entry and exit points.
Store up to 200 dives. Upload, share and review dives in the Garmin Dive app1.
Measure your performance, and track your stats above water.
Track your activities with more than 30 built-in sports apps and advanced training features.
Explore longer with up to 25 hours in dive mode, 21 days in smartwatch mode and 26 hours in GPS mode.

ENGINEERED FOR ENDURANCE
This rugged dive computer is water-rated to 100 meters, features a sapphire lens and is rated to MIL-STD-810.
DESIGNED TO BE DARING
With a high-contrast display and purpose-built design, this device is meant to wow you.

Deep Feature Set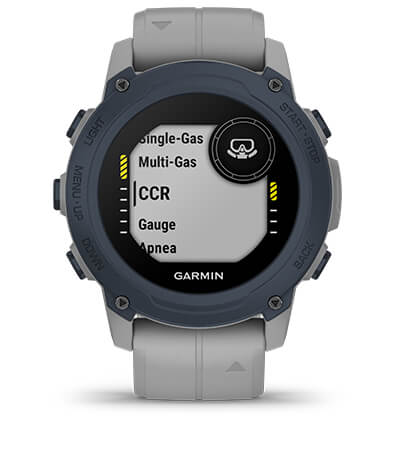 DIVE MODES
Get multiple dive modes for single and multiple gas dives (including nitrox and trimix), gauge, apnea, apnea hunt and closed-circuit rebreather.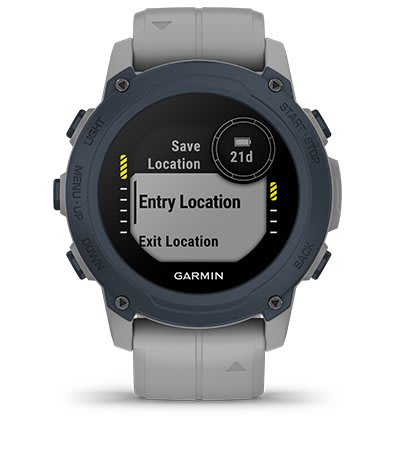 SURFACE MULTI-GNSS
Track your entry and exit points4 with advanced satellite connectivity.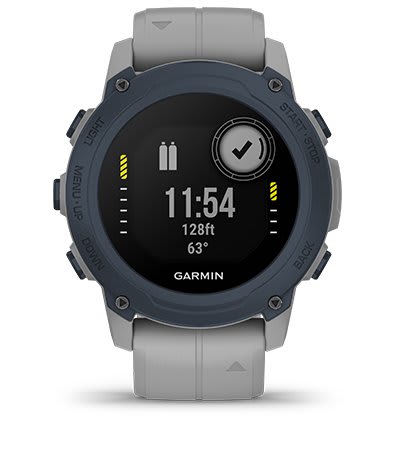 DIVE LOG
Store and review data for up to 200 dives — and share via the Garmin Dive app1.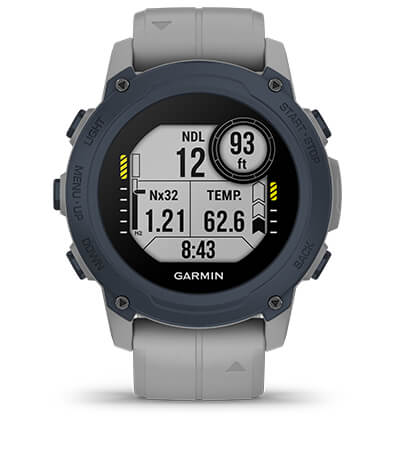 CUSTOMIZABLE DIVE MODES
Add additional screens for each dive mode that features the fields you want to see.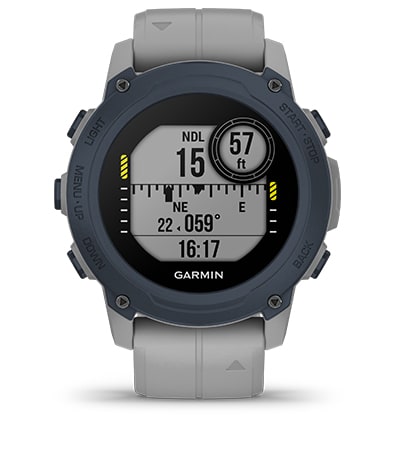 DIVE COMPASS
Easily navigate below the waterline with the built-in 3-axis compass.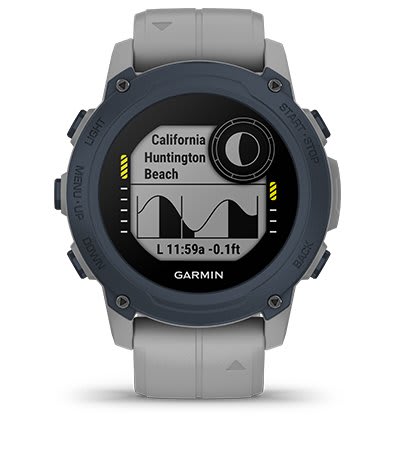 TIDE DATA
Stay up to date on ocean conditions so you can catch the perfect wave. Just pair the watch with your compatible smartphone.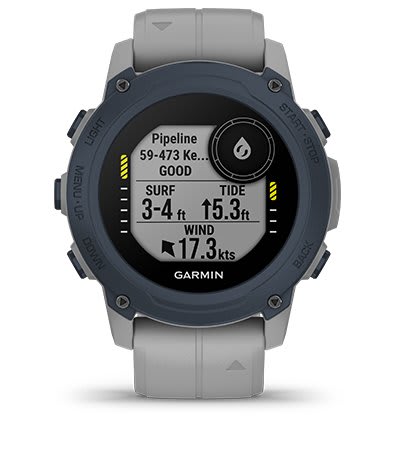 SURFLINE®
See conditions — such as tide, wave height, wind and surf rating — for each of the five nearest surf spots, when paired with the Garmin Connect app on your compatible smartphone.

Push performance to a whole new level.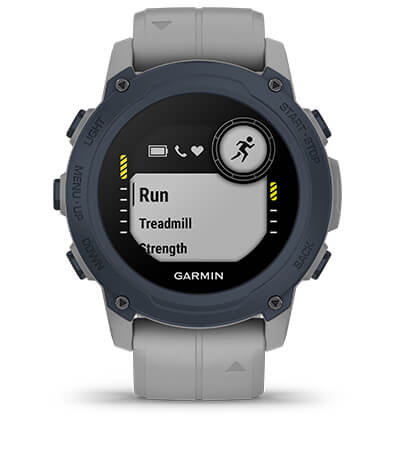 SPORTS APPS
Use preloaded activity profiles for trail running, swimming, running, biking, hiking, rowing, skiing, golfing and more.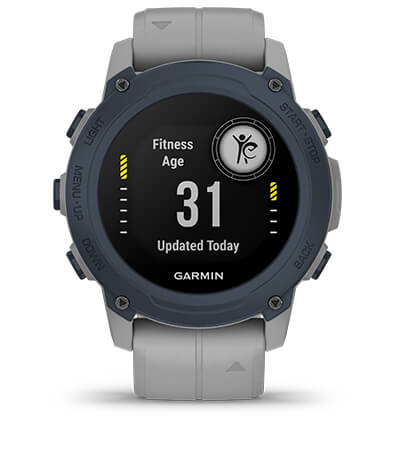 FITNESS AGE
This feature uses chronological age, your weekly vigorous activity and resting heart rate to estimate if your body is younger or older than you are. And you can get tips to lower your fitness age.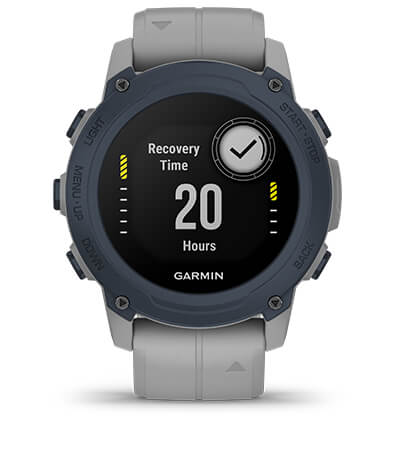 RECOVERY TIME
After each workout, recovery time lets you know when you'll be ready for another hard workout. It even accounts for training intensity and factors such as stress, daily activity and sleep.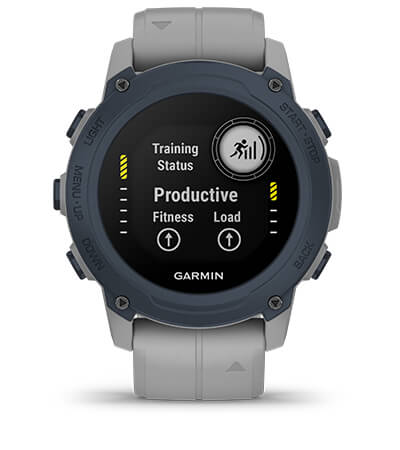 TRAINING STATUS
This metric evaluates your recent exercise history and performance indicators to let you know if you're training productively, peaking or overreaching.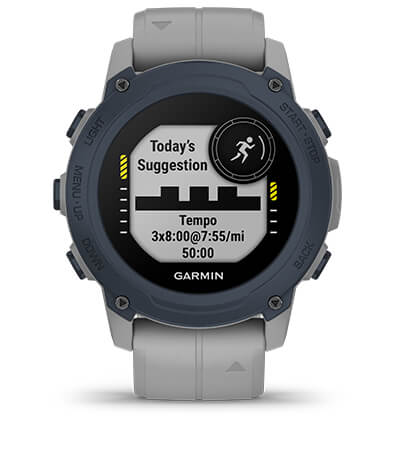 DAILY SUGGESTED WORKOUTS
For training guidance that takes you and your fitness level into account, get daily run suggestions based on your current training load and status.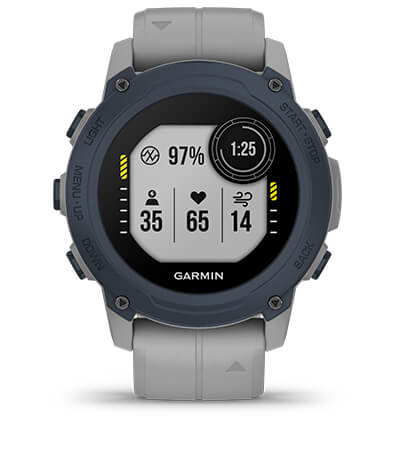 ALL-DAY RESPIRATION
Track how you're breathing throughout the day, during sleep, and during breathwork.

Tune in to your body and mind.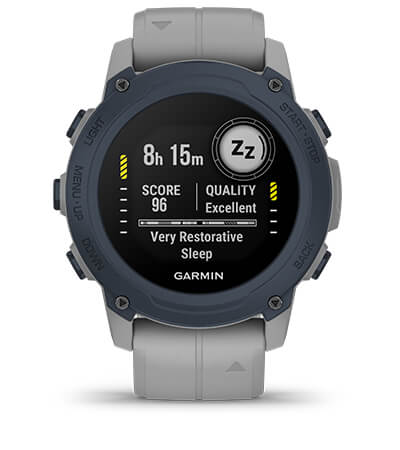 SLEEP SCORE AND ADVANCED SLEEP MONITORING
Get a full breakdown of your light, deep and REM sleep stages. View it all on a dedicated widget that includes your sleep score and insights.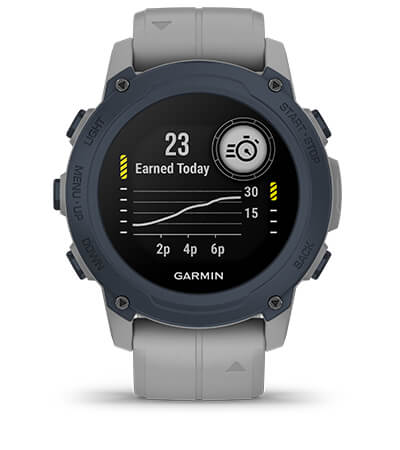 INTENSITY MINUTES
With improvements based on guidance from the CDC and WHO, now you can understand when you've earned daily intensity minutes and during what activity.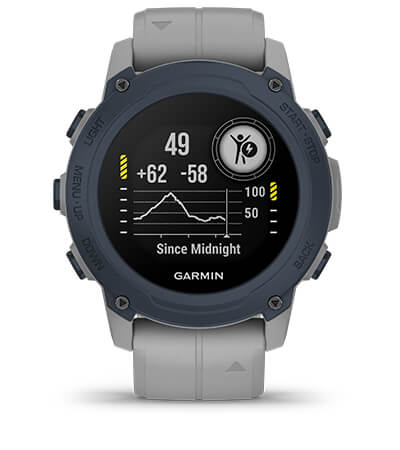 BODY BATTERY ENERGY MONITORING
Track your body's energy levels so you can find the best times for activity and rest.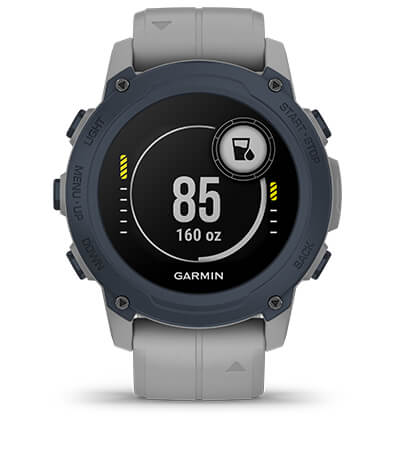 HYDRATION TRACKING
Log daily fluid intake as a reminder to stay hydrated. When auto goal is enabled, you'll even see estimated sweat loss after an activity, and your goal will adjust accordingly.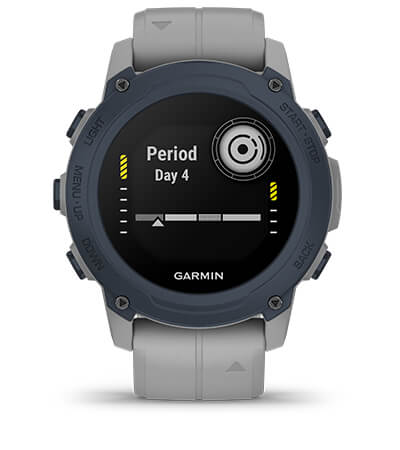 WOMEN'S HEALTH TRACKING
Use the Garmin Connect app to track your menstrual cycle or pregnancy. Log symptoms, get exercise and nutrition education, and more.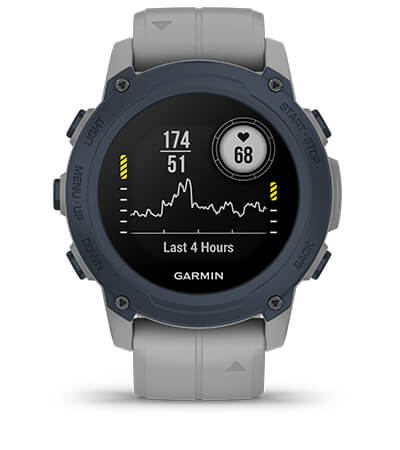 WRIST-BASED HEART RATE
The watch constantly samples your heart rate6 and will alert you if it stays too high or too low while you're at rest. It also helps gauge how hard you work during activities — even while swimming.

Designed for both your worlds.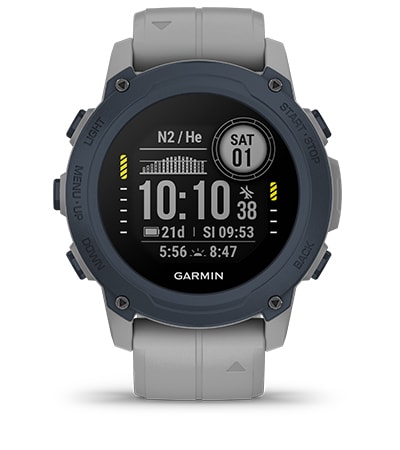 SUPERIOR BUILD QUALITY
Enjoy a rugged, watch-style dive computer with a sapphire lens, silicone bands and an easy-to-read monochrome display.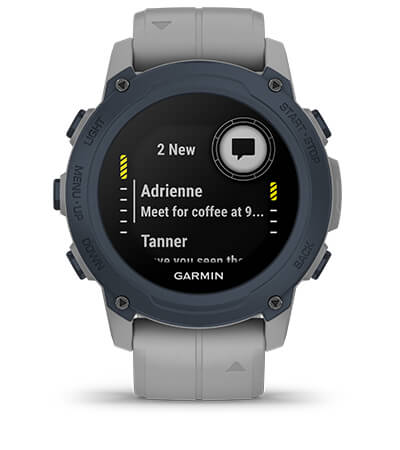 SMART NOTIFICATIONS
Receive emails, texts and alerts right on your wrist when paired with a compatible device.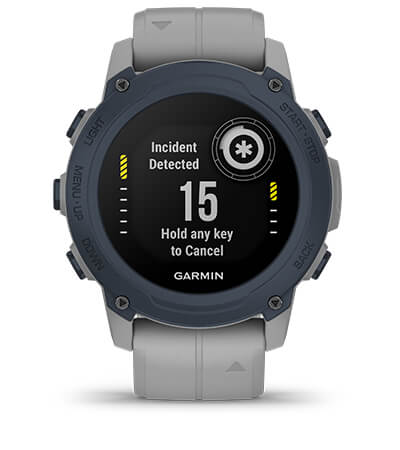 SAFETY AND TRACKING FEATURES
When your watch and phone are paired, your live location can be sent to your contacts manually or — during select outdoor activities — automatically with built-in incident detection5.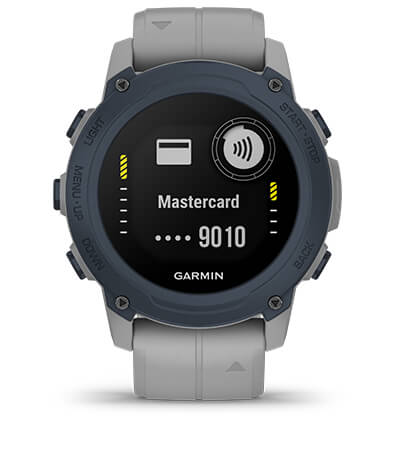 GARMIN PAY CONTACTLESS PAYMENTS
Breeze through checkout lines with Garmin Pay contactless payments6 through participating providers.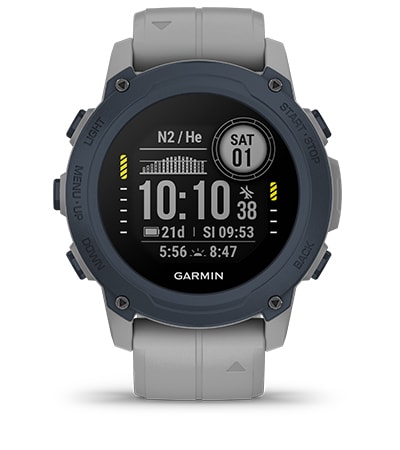 CONNECT IQ STORE
Download custom watch faces, add data fields, and get apps and widgets from the Connect IQ Store.

QuickFit accessory bands let you match your style with no tools required.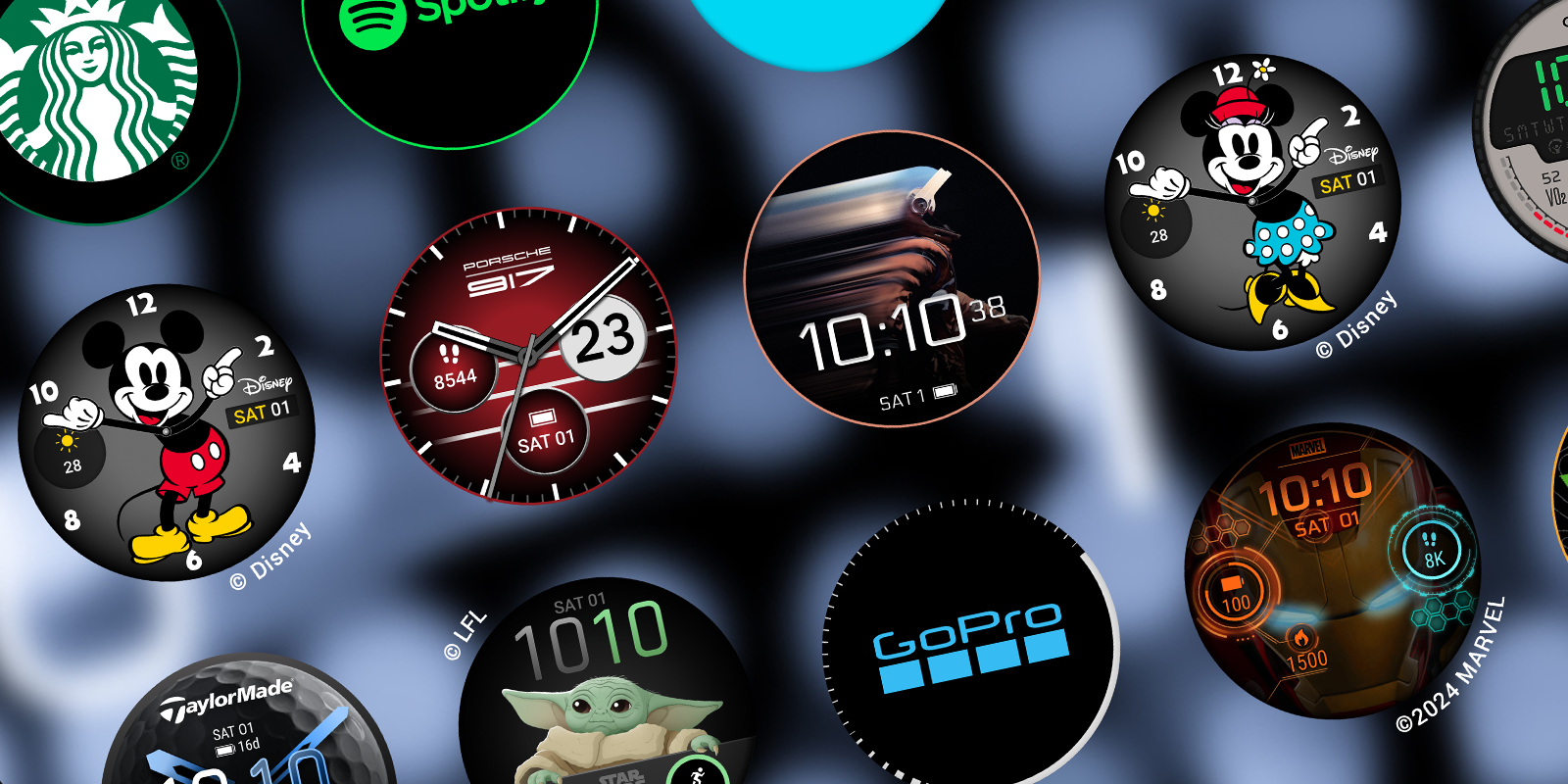 Customize your Garmin device using the Connect IQ Store
LEARN MORE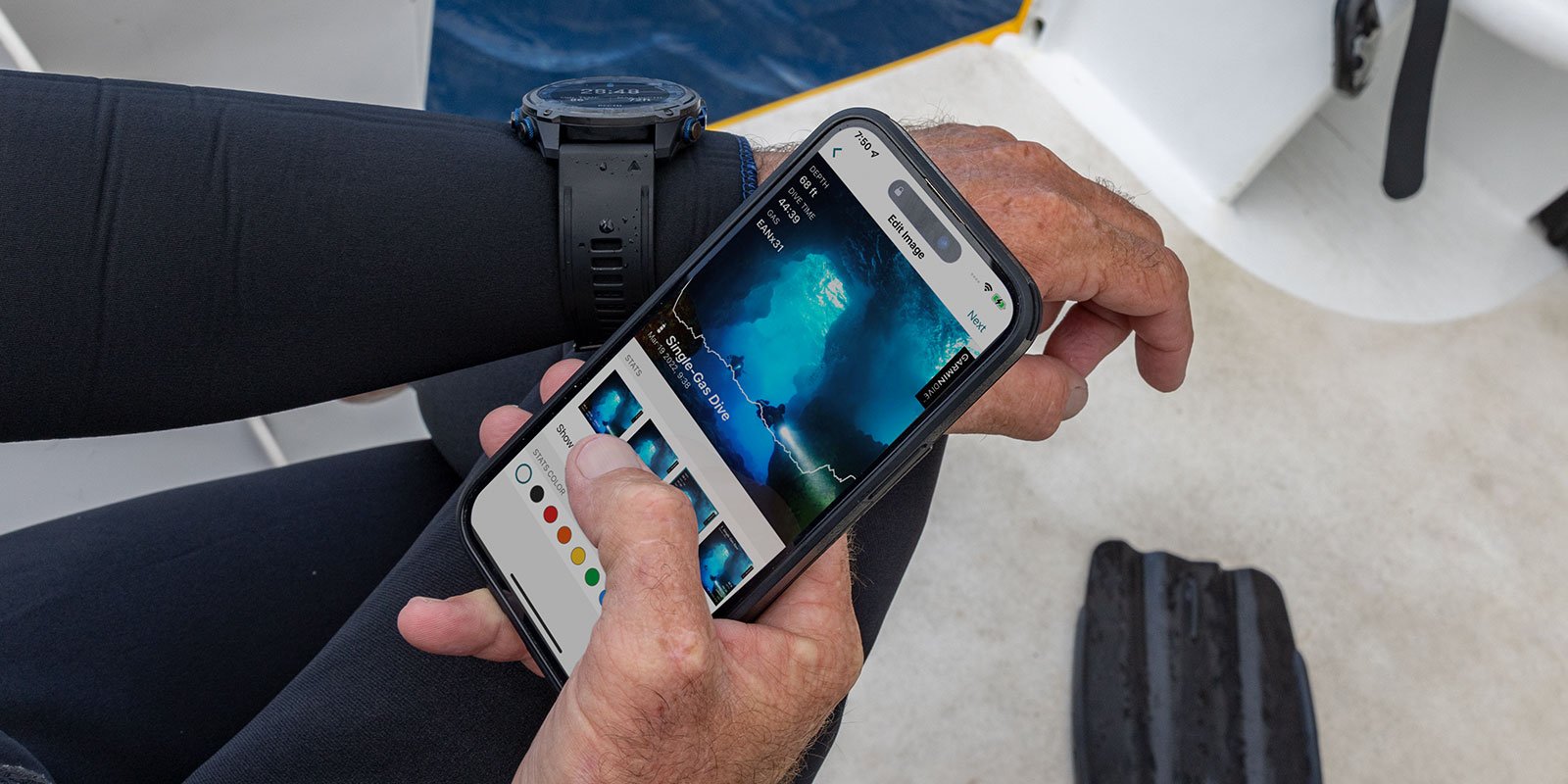 The Garmin Dive app lets you log, track and share your dives
LEARN MORE
1 Requires app loaded on your compatible smartphone paired to Descent G1; see 
Garmin.com.hk/ble
2 Solar charging, assuming all-day wear with 3 hours per day outside in 50,000 lux conditions3 Solar charging, assuming use in 50,000 lux conditions4 Active satellite subscription required. Some jurisdictions regulate or prohibit the use of satellite communication devices. It is your responsibility to know and follow all applicable laws in the jurisdictions where the satellite communication device is intended to be used. Satellite communication does not work underwater.5 This is not a medical device and is not intended for use in the diagnosis or monitoring of any medical condition; see 
Garmin.com/ataccuracy
. Pulse Ox not available in all countries.6 
Activity tracking accuracy
7 When paired with a 
compatible smartphone
. For safety and tracking feature requirements and limitations, see 
Garmin.com/safety
.8 
View current supported country, payment network and issuing bank information
General

LENS MATERIAL
sapphire crystal
BEZEL MATERIAL
fiber-reinforced polymer
CASE MATERIAL
fiber-reinforced polymer
QUICKFIT WATCH BAND COMPATIBLE
yes (22 mm)
STRAP MATERIAL
silicone
PHYSICAL SIZE
45.5 x 45.5 x 15.2 mm
Silicone Band: 128-224 mm
Extra Long Silicone Band: 128-373 mm
DISPLAY SIZE
custom, two-window design: 0.9" x 0.9" (23 x 23 mm)
DISPLAY RESOLUTION
176 x 176 pixels
DISPLAY TYPE
monochrome, sunlight-visible, transflective memory-in-pixel (MIP)
WEIGHT
61 g
BATTERY LIFE
Dive Mode: Up to 25 hours
Smartwatch: Up to 21 days
Battery Saver Watch Mode: Up to 48 days
GPS: Up to 26 hours
Max Battery GPS Mode: Up to 56 hours
Expedition GPS Activity: Up to 27 days
WATER RATING
Dive (100 meters)
MEMORY/HISTORY
32 MB
Clock Features

TIME/DATE
 
GPS TIME SYNC
 
AUTOMATIC DAYLIGHT SAVING TIME
 
ALARM CLOCK
 
TIMER
 
STOPWATCH
 
SUNRISE/SUNSET TIMES
 
Health Monitoring

WRIST-BASED HEART RATE (CONSTANT, EVERY SECOND)
 
DAILY RESTING HEART RATE
 
ABNORMAL HEART RATE ALERTS
(high and low)
RESPIRATION RATE (24X7)
 
PULSE OX BLOOD OXYGEN SATURATION
(spot-check, during sleep, all day)
FITNESS AGE
 
BODY BATTERY ENERGY MONITOR
 
ALL-DAY STRESS
 
RELAXATION BREATHING TIMER
 
SLEEP
 
SLEEP SCORE AND INSIGHTS
 
HYDRATION
(in Garmin Connect)
WOMEN'S HEALTH
(in Garmin Connect)
HEALTH SNAPSHOT
 
Sensors

GPS
 
GLONASS
 
GALILEO
 
GARMIN ELEVATE WRIST HEART RATE MONITOR
 
BAROMETRIC ALTIMETER
 
COMPASS
 
GYROSCOPE
 
ACCELEROMETER
 
THERMOMETER
 
DEPTH SENSOR
 
PULSE OX BLOOD OXYGEN SATURATION MONITOR
 
Daily Smart Features

CONNECTIVITY
Bluetooth, ANT+
CONNECT IQ (DOWNLOADABLE WATCH FACES, DATA FIELDS, WIDGETS AND APPS)
 
SMART NOTIFICATIONS
 
TEXT RESPONSE/REJECT PHONE CALL WITH TEXT (ANDROID ONLY)
 
CALENDAR
 
WEATHER
 
BATTERY SAVER (CUSTOMIZABLE LOW POWER WATCH)
 
CONTROLS SMARTPHONE MUSIC
 
FIND MY PHONE
 
FIND MY WATCH
 
VIRB REMOTE
 
SMARTPHONE COMPATIBILITY
iPhone, Android
PAIRS WITH GARMIN GOLF APP
 
PAIRS WITH GARMIN CONNECT MOBILE
 
GARMIN PAY
 
Safety and Tracking Features

LIVETRACK
 
INCIDENT DETECTION DURING SELECT ACTIVITIES
 
ASSISTANCE
 
Tactical Features

DUAL GRID COORDINATES
 
Diving Features

DIVE ACTIVITY MAXIMUM OPERATING DEPTH
100 meters
SINGLE-GAS MODE
 
MULTI-GAS MODE
 
GAUGE MODE
 
APNEA MODE
 
APNEA HUNT MODE
 
DECOMPRESSION MODEL
Bühlmann ZHL-16c with gradient factors
NITROX SUPPORT
 
TRIMIX SUPPORT
 
CLOSED CIRCUIT REBREATHER (CCR)
 
GAS MIXES

Air, Nitrox and Trimix up to 100% O2; 1 bottom gas and up to 11 deco and/or backup gasses.

PO2
Up to 2.0 with customizable deco PO2 setting
AUTO START/END DIVE
 
CUSTOM END-DIVE TIMEOUT
(20s to 10 m)
SAFETY STOP
(customizable off/3min/5min)
DEEP STOPS
(using custom gradient factors)
CUSTOMIZABLE CONSERVATISM
(low/medium/high or custom using gradient factors)
DIVE ASCENT/DESCENT RATE INDICATOR
 
AUTOMATIC ALTITUDE ADJUSTMENT
 
NO FLY TIME
 
DIVE PLANNER
(basic NDL + multi-gas deco planner)
TIDES
 
BACKLIGHT
(configurable time and intensity; auto-on at depth)
AUTOMATICALLY SAVES DIVE ENTRY AND EXIT LOCATIONS
 
CUSTOM DIVE DATA SCREENS
 
SYNC DIVE LOG TO GARMIN DIVE MOBILE APP
 
ALERTS & ALARMS
Audible and vibration alarms for ascent rate, PO2, CNS/OTU, NDL, deco, gas switching. Customizable (up to 40) audible and/or vibration per dive mode, based on depth or time
3-AXIS DIVE COMPASS
(with adjustable heading, quick change to 90R, 90L and reciprocal). Indicates degrees and direction back to set heading
MISSED DECO LOCKOUT
(can be disabled prior to dive with user acknowledgement)
RESIDUAL TISSUE LOADING RESET
(on the surface with user acknowledgement)
SURFACE DIVER STATUS WIDGET
(surface interval, N2/HE loading, CNS, OTU and tissue compartment status)
Boating Features

AVAILABLE BOATING PROFILES
Boating
BUILT-IN BAROMETER AND TIDE TABLES
 
Activity Tracking Features

STEP COUNTER
 
MOVE BAR (DISPLAYS ON DEVICE AFTER A PERIOD OF INACTIVITY; WALK FOR A COUPLE OF MINUTES TO RESET IT)
 
AUTO GOAL (LEARNS YOUR ACTIVITY LEVEL AND ASSIGNS A DAILY STEP GOAL)
 
CALORIES BURNED
 
FLOORS CLIMBED
 
DISTANCE TRAVELED
 
INTENSITY MINUTES
 
TRUEUP
 
MOVE IQ
 
GARMIN CONNECT CHALLENGES APP
(optional Connect IQ app)
Gym & Fitness Equipment

AVAILABLE GYM ACTIVITY PROFILES
Strength, Cardio and Elliptical Training, HIIT, Stair Stepping, Floor Climbing, Indoor Rowing, and Yoga
CARDIO WORKOUTS
 
STRENGTH WORKOUTS
 
HIIT WORKOUTS
 
AUTOMATIC REP COUNTING
 
Training, Planning and Analysis Features

HR ZONES
 
HR ALERTS
 
HR CALORIES
 
% HR MAX
 
% HRR
 
RECOVERY TIME
 
AUTO MAX HR
 
HR BROADCAST (BROADCASTS HR DATA OVER ANT+ TO PAIRED DEVICES)
(using ANT+)
RESPIRATION RATE (DURING EXERCISE)
 
GPS SPEED AND DISTANCE
 
CUSTOMIZABLE DATA PAGES
 
CUSTOMIZABLE ACTIVITY PROFILES
 
AUTO PAUSE
 
INTERVAL TRAINING
 
ADVANCED WORKOUTS
 
DOWNLOADABLE TRAINING PLANS
 
POWER MODES - CUSTOMIZABLE IN-ACTIVITY BATTERY SETTINGS
 
AUTO LAP
 
MANUAL LAP
 
CONFIGURABLE LAP ALERTS
 
HEAT AND ALTITUDE ACCLIMATION
 
VO2 MAX (RUN)
 
VO2 MAX (TRAIL RUN)
 
TRAINING STATUS (LETS YOU SEE IF YOU'RE TRAINING EFFECTIVELY BY TRACKING YOUR TRAINING HISTORY AND FITNESS LEVEL TREND.)
 
TRAINING LOAD (YOUR TOTAL TRAINING LOAD FOR THE LAST 7 DAYS CALCULATED FROM ESTIMATED EPOC)
 
TRAINING EFFECT
 
TRAINING EFFECT (ANAEROBIC)
 
PRIMARY BENEFIT (TRAINING EFFECT LABELS)
 
IMPROVED RECOVERY TIME
 
DAILY SUGGESTED WORKOUTS
 
CUSTOM ALERTS
 
AUDIO PROMPTS
 
FINISH TIME
 
VIRTUAL PARTNER
 
RACE AN ACTIVITY
 
AUTO MULTISPORT ACTIVITIES
 
MANUAL MULTISPORT ACTIVITIES
 
COURSE GUIDANCE
 
TOUCH AND/OR BUTTON LOCK
 
HOT KEYS
 
AUTO SCROLL
 
ACTIVITY HISTORY ON WATCH
 
PHYSIO TRUEUP
 
Running Features

AVAILABLE RUN PROFILES

Running, Treadmill Running, Indoor Track Running, Trail Running

GPS-BASED DISTANCE, TIME AND PACE
 
RUNNING DYNAMICS
(with compatible accessory)
VERTICAL OSCILLATION AND RATIO (THE DEGREE OF 'BOUNCE' IN YOUR RUNNING MOTION AND THE COST-BENEFIT RATIO WITH STRIDE LENGTH)
(with compatible accessory)
GROUND CONTACT TIME AND BALANCE (SHOWS HOW MUCH TIME, IN THE RUNNING MOTION, YOUR FOOT IS ON THE GROUND RATHER THAN IN FLIGHT AND LETS YOU CHECK YOUR RUNNING SYMMETRY)
(with compatible accessory)
STRIDE LENGTH (REAL TIME)
(with compatible accessory)
CADENCE (PROVIDES REAL-TIME NUMBER OF STEPS PER MINUTE)
 
PERFORMANCE CONDITION (AFTER RUNNING 6–20 MINUTES, COMPARES YOUR REAL-TIME CONDITION TO YOUR AVERAGE FITNESS LEVEL)
 
LACTATE THRESHOLD (THROUGH ANALYSIS OF YOUR PACE AND HEART RATE, ESTIMATES THE POINT WHERE YOUR MUSCLES START TO RAPIDLY FATIGUE)
(with compatible accessory)
RUN WORKOUTS
 
RACE PREDICTOR
 
FOOT POD CAPABLE
 
Golfing Features

YARDAGE TO F/M/B (DISTANCE TO FRONT, MIDDLE AND BACK OF GREEN)
 
YARDAGE TO LAYUPS/DOGLEGS
 
MEASURES SHOT DISTANCE (CALCULATES EXACT YARDAGE FOR SHOTS FROM ANYWHERE ON COURSE)
manual
DIGITAL SCORECARD
 
STAT TRACKING (STROKES, PUTTS PER ROUND, GREENS AND FAIRWAYS HIT)
 
AUTO COURSEVIEW UPDATES
 
GREEN VIEW WITH MANUAL PIN POSITION
 
HAZARDS AND COURSE TARGETS
 
PINPOINTER
 
ROUND TIMER/ODOMETER
 
AUTOMATIC CLUB TRACKING COMPATIBLE (REQUIRES ACCESSORY)
 
TOURNAMENT LEGAL
 
Outdoor Recreation

AVAILABLE OUTDOOR RECREATION PROFILES

Surfing, Windsurfing, Kiteboarding, Hiking, Climbing, Indoor Climbing, Bouldering, Skiing, Snowboarding, XC Skate Skiing, XC Classic Skiing, Backcountry Skiing, Stand Up Paddleboarding, Rowing, Kayaking, Tactical, Fishing, Hunting

POINT-TO-POINT NAVIGATION
 
BREAD CRUMB TRAIL IN REAL TIME
 
BACK TO START
 
TRACBACK
 
ULTRATRAC MODE
 
ELEVATION PROFILE
 
DISTANCE TO DESTINATION
 
BAROMETRIC TREND INDICATOR WITH STORM ALERT
 
TRAIL RUN AUTO CLIMB
 
VERTICAL SPEED
 
TOTAL ASCENT/DESCENT
 
FUTURE ELEVATION PLOT
 
COMPATIBLE WITH BASECAMP
 
GPS COORDINATES
 
SIGHT 'N GO
 
AREA CALCULATION
 
PROJECTED WAYPOINT
 
SUN AND MOON INFORMATION
 
XERO LOCATIONS
 
EXPEDITION GPS ACTIVITY
 
TIDES
 
Cycling Features

AVAILABLE CYCLING PROFILES

Biking, Road Biking, Mountain Biking, Gravel Biking, Cyclocross, Bike Commuting, Bike Touring, eBiking, eMountain Biking, Indoor Biking

ALERTS (TRIGGERS ALARM WHEN YOU REACH GOALS INCLUDING TIME, DISTANCE, HEART RATE OR CALORIES)
 
COURSES
 
MTB GRIT & FLOW
 
BIKE LAP AND LAP MAXIMUM POWER (WITH POWER SENSOR)
 
RACE AN ACTIVITY
 
FTP (FUNCTIONAL THRESHOLD POWER)
 
COMPATIBLE WITH VECTOR AND RALLY (POWER METERS)
 
POWER METER COMPATIBLE
 
SPEED AND CADENCE SENSOR SUPPORT (W/SENSOR)
 
Swimming Features

AVAILABLE SWIM PROFILES

Pool Swimming, Open Water Swimming, Swimming/Running

OPEN-WATER SWIM METRICS (DISTANCE, PACE, STROKE COUNT/RATE, STROKE DISTANCE, SWIM EFFICIENCY (SWOLF), CALORIES)
 
POOL SWIM METRICS (LENGTHS, DISTANCE, PACE, STROKE COUNT, SWIM EFFICIENCY (SWOLF), CALORIES)
 
STROKE TYPE DETECTION (FREESTYLE, BACKSTROKE, BREASTSTROKE, BUTTERFLY) (POOL SWIM ONLY)
 
DRILL LOGGING (POOL SWIM ONLY)
 
BASIC REST TIMER (UP FROM 0) (POOL SWIM ONLY)
 
"REPEAT ON" REST TIMER (POOL SWIM ONLY)
 
AUTO REST (POOL SWIM ONLY)
 
TIME AND DISTANCE ALERTS
 
COUNTDOWN START (POOL SWIM ONLY)
 
POOL SWIM WORKOUTS
 
UNDERWATER WRIST-BASED HEART RATE
 
HEART RATE FROM EXTERNAL HRM (REAL-TIME DURING RESTS, INTERVAL AND SESSION STATS DURING RESTS, AND AUTOMATIC HEART RATE DOWNLOAD POST-SWIM)
 
Kid Activity Tracking Features

TOE-TO-TOE CHALLENGES APP
(optional Connect IQ Toe-to-Toe Challenges app)
Descent G1 
Charging/data cable
Documentation
Software License Agreement
By downloading, installing, or using this software, you agree to be bound by the terms and conditions of the following license agreement. Please read this agreement carefully.
Garmin Corporation ("Garmin") grants you a limited, non-exclusive license to use the upgrade software ("Software") in binary executable form in the normal operation of the applicable Garmin products. Title, ownership rights, and intellectual property rights in and to the Software remain in Garmin. This license is personal to you and you may make copies of the software only for your personal use. You agree that this license agreement does not need to be signed for it to take effect.
The software is provided on an "as is" basis without warranty of any kind — either expressed or implied — including, without limitation, any implied warranties of merchantability or fitness for a particular purpose. Garmin does not warrant the performance of the software or that the software will meet your requirements or operate error free.
You acknowledge that this Software is the property of Garmin and is protected under United States of America copyright laws and international copyright treaties. You further acknowledge that the structure, organization, and code of the Software are valuable trade secrets of Garmin and that the Software in source code form remains a valuable trade secret of Garmin. You agree not to decompile, disassemble, modify, reverse assemble, reverse engineer, or reduce to human readable form the Software or any part thereof or create any derivative works based on the Software.
You agree not to export or re-export the Software to any country in violation of the export control laws of the United States of America.
Your Dynamic Snippet will be displayed here... This message is displayed because youy did not provide both a filter and a template to use.