Standard Kit
Insta360 X3
128GB Micro SD
Invisible Stick
Invisible Dive Kit
Insta360 X3
128GB Micro SD
Invisible Stick
Invisible Dive Kit
Floating Hand Grip
Features
Immersive 5.7K 360 video.
Wide-angle 4K Single-Lens Mode.
Epic third-person views with Invisible Selfie Stick.
FlowState Stabilization and 360 Horizon Lock.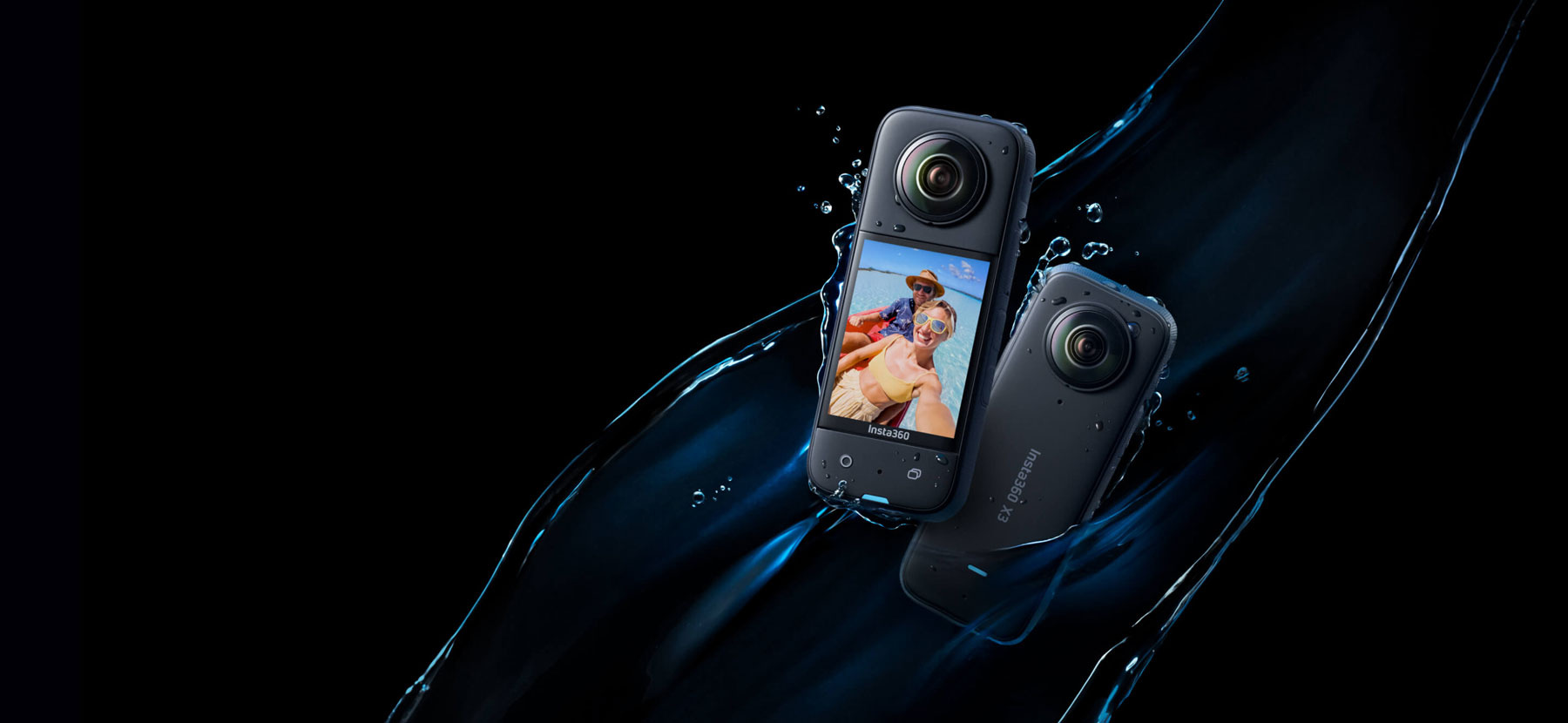 Why Choose X3?
360 Creative PowerhouseShoot first, point later with 5.7K Active HDR video, 72MP photos and 8K timelapses.
4K Single-Lens ModeShoot epic first-person views at 4K30fps or 2.7K with ultra-wide MaxView.
1/2" 48MP SensorReveal the details with X3's brand new 1/2" image sensor.
Magic Third-Person ViewsShoot impossible drone-like views with the Invisible Selfie Stick.
FlowState StabilizationStabilize the action with gimbal-like stabilization and 360 Horizon Lock.
Massive Touchscreen2.29" tempered glass touchscreen for easy operation on the go.
Rugged and WaterproofRobust for any adventure and waterproof to 33ft.
Powerful Editing SuiteLet AI edit for you in the Insta360 app. Edit viral edits in a tap.
5.7K 360 CAPTUREUnleash your creativity.X3 captures vivid 5.7K 360 video, so you'll never miss the action. With 360 degrees of footage at your fingertips, the creative possibilities are endless.
DUAL 1/2" 48MP SENSORSBetter sensor, better content.X3's new 1/2" 48MP sensors pack in more pixels for greater clarity and detail, even in low light.
REFRAMINGShoot first, point later.Simply mount up, hit record and choose the best angles afterwards, using easy reframing tools in the AI-powered Insta360 app. Share to any social media platform in a tap without losing any quality.
72MP 360 PHOTOSThe most megapixels ever.The most megapixels ever in a 360 action cam. Capture 360° photos with more detail than ever before.
360 ACTIVE HDRBring out the details.An innovative new HDR mode for stabilized action videos. In tough lighting conditions, Active HDR reveals details in the highlights and shadows that other action cameras miss.
SINGLE-LENS MODE4K first-person views.Select a lens to shoot wide-angle footage just like a single-lens action cam. Get maximum resolution with 4K30fps or an extremely wide 170° field of view with 2.7K MaxView. Your first-person view footage has never looked so good.
ME MODESee yourself at 60fps.Try the all-new Me mode which fixes the frame to focus only on you. Capture yourself without the selfie stick at 60fps for epic slow mo. No need to reframe, just keep yourself in frame!
Ready for adventure.
INVISIBLE SELFIE STICKImpossible third-person views.The Invisible Selfie Stick disappears in your edit, enabling you to capture aerial angles and third-person perspectives that are only possible with a 360 action cam. No drone, no problem!
FLOWSTATE STABILIZATIONSteady no matter what.Bumpy trails and big waves are no match for X3's leading action cam image stabilization. FlowState keeps your videos smooth no matter what.
360 HORIZON LOCKAlways level.Unlock the next level of action cam image stabilization. Whether you're flipping on your paraglider or riding a roller coaster, 360 Horizon Lock always keeps your video level.
Capture the unexpected.
TIMELAPSESpeed up time in glorious 8K.Take next-level 360 timelapse videos in eye-popping 8K, thanks to X3's larger new sensor.
4K 120FPS BULLET TIMEMatrix-level slow mo.Transport yourself to the Matrix with 4K120fps or 3K180fps slow-mo. Bullet Time looks more cinematic than ever with higher resolution and frame rates.
PRE-RECORDINGNever miss a moment.Save 15 or 30 seconds of footage before you even press the shutter button! Make sure you never miss a key moment.
LOOP RECORDINGDoubles as a dashcam.Turn your X3 into a dashcam. X3 will continually record video but only save the final minutes according to your set interval, saving precious space on your memory card.*X3 supports setting a looping interval of 1, 3, 5, 10, 15, 20, 25 or 30 minutes.
Faster, easier, better.
Massive TouchscreenYep, that's an ultra bright 2.29" touchscreen with robust tempered glass protection. Designed for crystal clear photo and video preview.
Easy Controls + Vibration FeedbackLarge, responsive buttons are easy to use, even when on the move or gloved up, with vibration feedback for clear command confirmation.
Voice Control 2.0You call the shots. A new voice control algorithm makes it easier to control X3 when your camera is mounted out of reach.Start recordingTake a photo
Wayyyy Faster Transfers50% faster Wi-Fi transfers compared to X2. Transfer and edit your files faster in the Insta360 app.
1800mAh BatteryPower through the action with the new 1800mAh battery, now with more capacity.
Upgraded Audio4 mics and an advanced new algorithm ensure X3's audio is crisp, natural and balanced. With the upgraded Direction Focus mode, reframe your video and have the audio follow the action.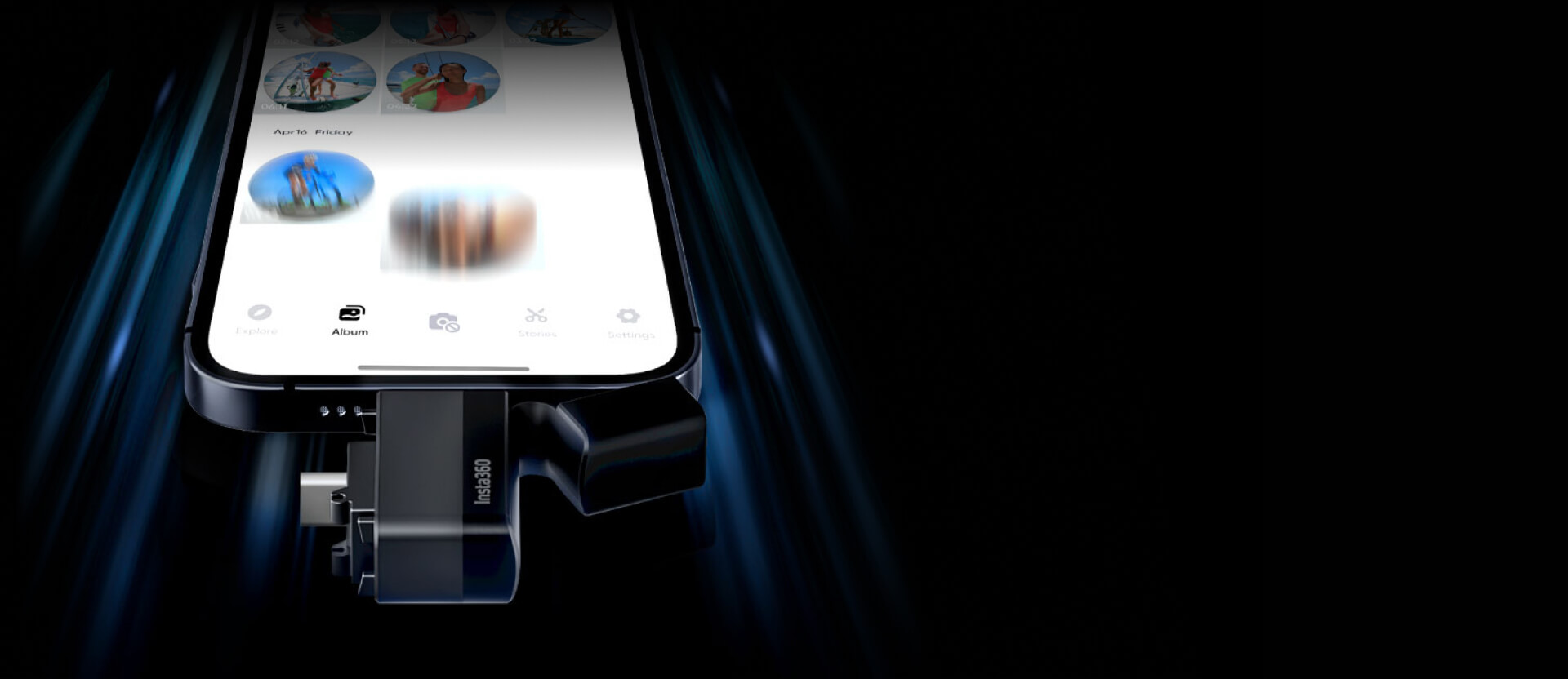 QUICK READER
Rapid file transfer.
We all love a timesaver. Grab a Quick Reader to vastly speed up your editing workflow. Plug in to the camera, transfer files, and edit directly on your phone.
IPX8 WATERPROOF TO 33FTA water lover's action cam.Take X3 down to 33ft (10m) straight out of the box. Grab the Dive Case for seamless stitching of your underwater 360 footage down to 164ft (50m).
RUGGED BUILDTough as nails.A 360 action cam that can take a bit of punishment. X3 has you covered with tough, tempered glass for the touchscreen, plus the option of Sticky Lens Guards for extra lens protection.
Editing made easy.
AUTO FRAMELet AI find the best shots.Not sure what to focus on? Auto Frame finds the best parts of your 360 videos for you, giving you a range of reframed clips to choose from.
SNAP WIZARDThe easiest way to reframe.Simply move your phone to point the camera where you want in your shot. Super easy, and pretty darn cool!
DEEP TRACK 2.0Always stay in frame.Pick a person, animal or other moving object in your shot and AI will keep them in-frame and centered.
PHOTO ANIMATORTransform your photos.Turn static 360 photos into animated videos in a tap with the Photo Animator. With AI facial recognition and preset effects, the app will animate your photos for you.
SHOT LAB
One-tap magic.
Shot Lab is the perfect tool for creating fun short videos for your social media! Just pick and choose from our large collection of Shot Lab templates and follow some simple instructions. Then let the AI do the rest!
Sky Swap
Nose Mode
StreetLapse
FLASHCUTYour AI storyteller.Create amazing videos with one tap! Pick a theme you like from FlashCut and then the clips you want the AI to edit together. FlashCut also mixes your clips to dance with the beat, giving your content that extra oomph!
More awesome Insta360 app features.EXPLORE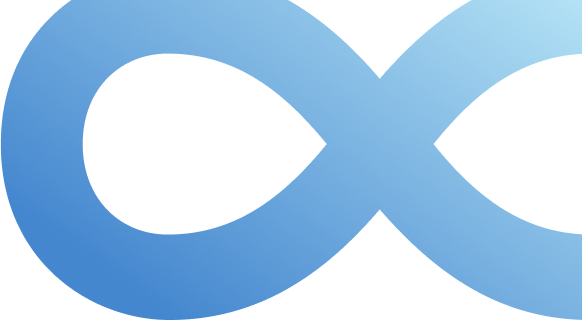 Insta360 STUDIOFine tune your edits.Take your 360 editing skills to the next level. Use Insta360 Studio and all the tools it provides to make your videos stand out. Keyframing and 360 editing tools will help you create the content of your dreams, with no quality loss!
More than an action cam.
360 LIVE STREAMINGShare live moments.Give your audience the freedom of choice! Just set X3 down and start streaming in 360. Live stream everything around you and let your audience take it all in.
WEBCAM MODEConference ready.Who says you have to sit next to each other during an online meeting? Webcam mode captures everyone in 360. No more huddling in front of a tiny webcam to fit in!
The ultimate 360 action cam.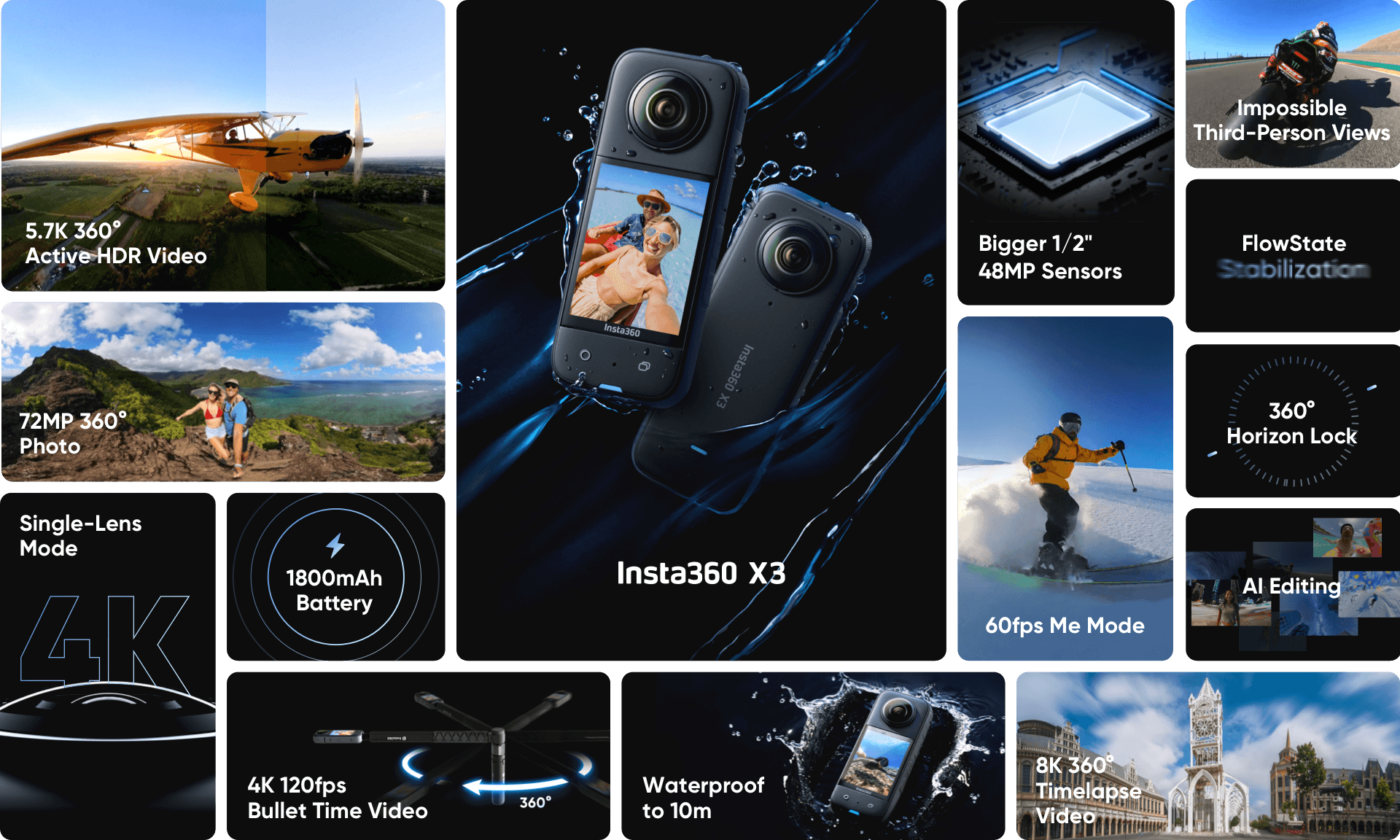 Specs
ApertureF1.9
35mm Equivalent Focal Length6.7mm
Photo Resolution72MP (11968x5984) 18MP (5952x2976)
Video Resolution360: 5.7K: 5760*2880@30/25/24fps 4K: 3840x1920@60/50/30/25/24fps 3K: 3008x1504@100fps Single Lens Mode: 4K: 3840x2160@30/25/24fps 3.6K: 3584x2016@60/50/30/25/24fps 2.7K: 2720x1530@60/50/30/25/24fps 1080P: 1920x1088@60/50/30/25/24fps
Photo FormatINSP (can be exported via mobile app or desktop Studio) DNG RAW (PureShot photos must be edited on desktop)
Video FormatSingle Lens: MP4 360: INSV
Photo ModesStandard, HDR, Burst, Interval, Starlapse
Video ModesStandard, Active HDR, Timelapse, TimeShift, Bullet Time, Loop Recording, Pre-recording
Color ProfilesVivid, Standard, LOG
Weight180g
Dimensions (W x H x D)46.0x114.0x33.1mm
Compatible DevicesiOS Devices: Compatible with iOS mobile devices with chips A11 or above and iOS version 11.0 or above, including iPhone SE 2, iPhone 8, iPhone 8 Plus, iPhone XR, iPhone XS, iPhone XS Max, iPhone X, iPhone 11, iPhone 11 Pro, iPhone 11 Pro Max, iPhone 12, iPhone 12 Pro, iPhone 12 Pro Max, iPhone 12 mini, iPhone 13, iPhone 13 Pro, iPhone 13 Pro Max, iPhone 13 mini, iPad Air (2020), iPad Pro and newer iPad models. Android Devices: Compatible with Android mobile devices that meet the following capabilities, including: • Android devices with Kirin 980 and above chips, including Huawei Mate 20, P30 or newer models. • Android devices with Snapdragon 845 and above chips, including Samsung Galaxy S9, Xiaomi Mi 8 or newer models. • Android devices with Exynos 9810 and above chips, including Samsung Galaxy S9, S9+, Note9 and newer models. • Android devices with Tensor chips, including Google Pixel 6. Note: 1. Devices that do not meet the above requirements may still be able to use the app to control the camera, however, performance of some processor-intensive and AI-powered features may be sub-optimal. 2. After testing, phones equipped with Qualcomm SDM765 5G chips have poor hardware decoding capabilities and are not supported for use, such as OPPO Reno 3 5G. 3. App installation requires a mobile phone with a 64-bit system. A 32-bit system does not support app installation. 4. The Snap Wizard feature is only compatible with iPhone 8 or above models (A11 or above chips); iPads with M1 chips; and Android devices with Kirin 990 and above chips (e.g. Huawei Mate 30 and above), Snapdragon 855 and above chips (e.g. Google Pixel 4/Xiaomi Mi 9 and above), or Exynos 990 and above chips (e.g. Samsung Galaxy S20 and above).
Run Time81min
Max Video Bitrate120Mbps
Gyroscope6-axis gyroscope
Live Streaming360 Live, Reframe Live (streamer sets a fixed perspective)
Exposure Value±4EV
ISO Range100-3200
Shutter SpeedPhoto: 1/8000 - 120s Video: 1/8000 - to the limit of frames per second
White Balance2000K-10000K
Audio Modes· Wind Reduction · Stereo · Direction Focus
Audio Format48 kHz, 16bits, AAC
BluetoothBLE 5.0
Wi-Fi2.4GHz, 5GHz 802.11a/b/g/n/ac
USBType-C * Note: This version only supports wired connection to Android devices (via Micro-USB or Type-C). It does not support wired connection to iOS devices. Full wireless support is available for both iOS and Android.
MicroSD CardUHS-I V30 speed class, exFAT format SD cards with a max storage of 1TB are recommended.
Battery Capacity1800mAh
Charging MethodType-C USB
Charging Time90min(5V/3A)
Operating Temperature-4°F to 104°F (-20℃ to 40℃)
Your Dynamic Snippet will be displayed here... This message is displayed because youy did not provide both a filter and a template to use.